FOLLOWUP: Preparations continue at planned Top Hat coronavirus quarantine/isolation site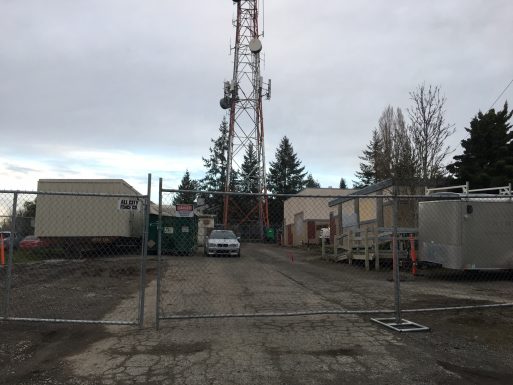 (WCN photo, Sunday)
Tomorrow marks one week since King County announced it planned to use the former Wilderness Technology Alliance site at 206 SW 112th in Top Hat as a COVID-19 quarantine/isolation site. No patients there yet, but preparation work continues, we confirmed with the King County Executive's Office today. We asked a few questions today since we hadn't seen the promised followup to last Friday's telephone meeting yet; spokesperson Alex Fryer said that's still in the works and likely will be sent to community members tomorrow.
Though no patients are there yet, Fryer said, they are on track to be ready as soon as Thursday; the second modular unit has been delivered, and the sewer line was installed Sunday. The old WTA building will be demolished by the middle of next week, he said (that would potentially clear the way for additional modular units).
During Friday's call, county officials said they were still shaping the criteria for who this facility would house. We asked Fryer what they'd decided on. His reply:
Criteria would include those who have been exposed to the virus, who are not ill, and need a place separate from others; those who are symptomatic but not critical and in need of housing; and those recovering … examples include:

i. College students living in dorm housing

ii. People who have traveled to the region and don't have a home to self-quarantine

iii. First responders who have been exposed or are exhibiting symptoms who can't self-quarantine at home

iv. People experiencing homelessness

v. People who can't self-quarantine at home because they have a family member who is at a high risk of contracting the virus
The King County Council is scheduled to consider emergency funding tomorrow related to the outbreak response; here's the agenda and packet (PDF) for the 1 pm Tuesday meeting, with the emergency-funding response on page 239. The documents call for allocating $10 million to placement of the modular facilities, which so far have been announced for two Seattle sites (Interbay and North Seattle) as well as the Top Hat location.
You can follow any responses to this entry through the RSS 2.0 feed. Both comments and pings are currently closed.