UPDATE: King County-owned Top Hat property is first portable-housing site for coronavirus patients; Senator Nguyen questions site choice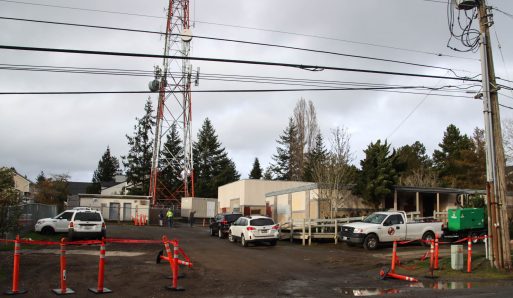 (WCN photos)
5:59 PM: That county-owned site at 206 SW 112th, across the street from the northwest side of the sprawling new Southside by Vintage apartments, is the first to hold a portable housing building that might soon be used for people who need to be isolated because of coronavirus COVID-19 illness.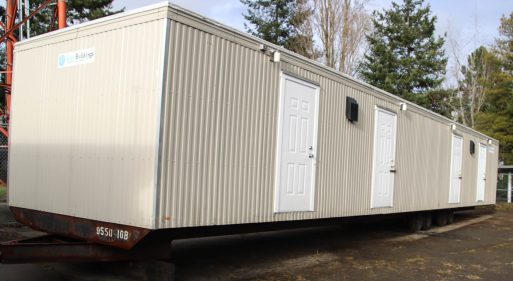 The four-room, eight-bed unit is one of 14 that the county has been storing at the old flour mill on Harbor Island. We talked with King County Executive Services spokesperson Barbara Ramey at the site this afternoon. She says the county originally bought 20 portables like this one and six are in use elsewhere for people experiencing homeless. Who will use this, and when? That'll be up to Seattle-King County Public Health, Ramey says. Here's a look inside: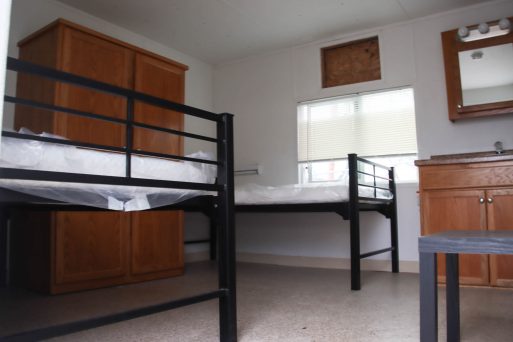 First, crews will be working to hook these up to utilities – they include bathrooms – but if they're needed faster than that work can be done, she said, temporary hand-washing stations and portable toilets will be brought in. The county is planning deployment of the other 13 available portables – some at as-yet undetermined sites – as well as continuing to work on the purchase of a motel whose location remains undisclosed. Ramey also said there's been "outreach" to neighbors to let them know what's being done at this site, which holds an old commercial building that will be torn down.
6:15 PM: 34th District State Sen. Joe Nguyen just sent this news release questioning the site choice:
While lauding the state's energetic response to the spread of coronavirus, Sen. Joe Nguyen (D-White Center) said the siting of a quarantine facility in White Center continues a pattern of systemic disregard for that community.

"I understand why this facility is needed," said Nguyen, who represents White Center in the Washington State Senate. "But the appearance of placing it in a neighborhood that has already been historically marginalized conveys a message about whose safety we most value in our society that is not lost on me."

Nguyen's comments came after King County officials announced today that a quarantine facility for those diagnosed with coronavirus will be opened in the Top Hat neighborhood of White Center following news of multiple deaths from the virus earlier this week.

"It is promising to hear of action from the state regarding the containment of coronavirus," Nguyen said. "While a quarantine facility does not necessarily mean the surrounding area is more prone to infection, I am wary to see that this facility has been placed in a community already deeply disenfranchised by decades of policies working against it."

White Center is one of the most racially diverse areas in King County, with 60 percent of its population made up by people of color, according to 2010 Census records.

The quarantine facility is expected to be operating within 10 days and will include 32 rooms for people infected with coronavirus. More facilities are expected to be announced in the coming days in response to an increasing number of cases of the illness being diagnosed in King County.
You can follow any responses to this entry through the RSS 2.0 feed. Both comments and pings are currently closed.