White Center Tree Lighting to include tribute to Tommy Martin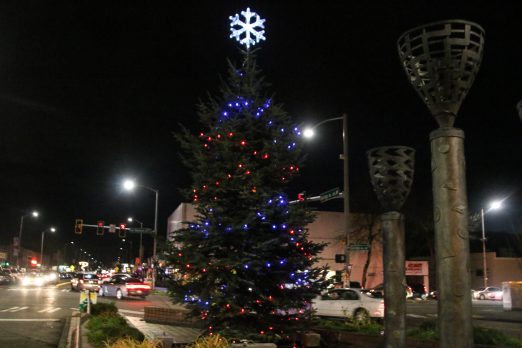 (WCN photo from 2018 Tree Lighting)
We told you last week about the White Center Christmas Tree Lighting event coming up Sunday (December 15th). Tonight, we have more information: It'll start at 5 pm and will include a tribute to Tommy Martin, the local enterpreneur and community advocate who died suddenly earlier this year. The White Center Eagles' Christmas carolers will sing, local businesses will provide refreshments, and Santa Claus is expected to make an appearance. And they'll be collecting food for the White Center Food Bank, so please bring a donation if you can. This will all happen at the mini-park by Mac's Triangle Pub at Delridge/16th/Roxbury.
SATURDAY NIGHT NOTE: Just discovered that we had wrong info and this happened tonight. Our apologies, and we are sorry to have missed it … off to photograph the tree soon as we can.
You can follow any responses to this entry through the RSS 2.0 feed. Both comments and pings are currently closed.