VIDEO: Helping keep downtown White Center clean, new King County Conservation Corps gets media spotlight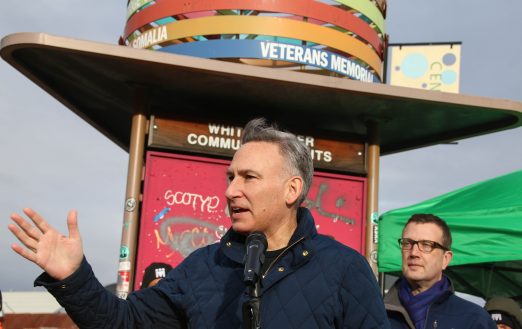 Though it's been at work for almost two months, the King County Conservation Corps got its official moment in the spotlight today, as a lineup of political and community leaders hosted a media briefing and cleanup event. Here's our video of the entire 20-minute briefing, plus some Q&A:
Those speaking included King County Executive Dow Constantine, County Councilmember Joe McDermott, Natural Resources/Parks deputy director Lorraine Patterson, and White Center Community Development Association executive director Sili Savusa. The KCCC was explained as a five-member team that is out on cleanup patrol five days a week – four in White Center, one in Skyway, with other urban unincorporated areas to come. The county has authorized a six-month pilot program, currently set to run through April, at a cost of about $125,000. They're partnering with the nonprofit Millionair Club to provide the workers, who are earning $18-$20 per hour. They had some extra help after the briefing: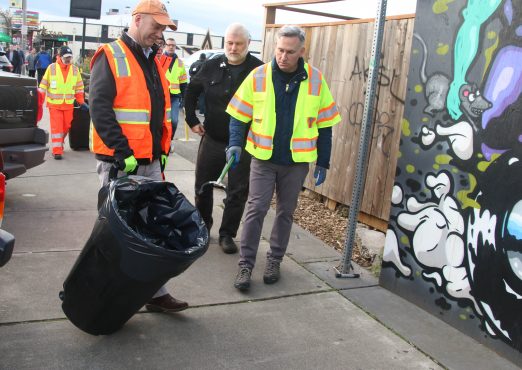 After the briefing, we got some additional specifics about White Center. Right now, the crew is working on an area bounded by Roxbury and 100th, 14th and 17th. It could expand further south as time goes by. This is all under the umbrella of the semi-new Local Services department, whose director John Taylor was also part of the briefing. We asked Constantine during the briefing if the continued beefing-up of what LS provides means the county has given up on what used to be the insistence that WC would have to be part of a city someday; he said no, that's still the long-range plan, but right now it's in charge of providing services so they want to do the best they can.
You can follow any responses to this entry through the RSS 2.0 feed. Both comments and pings are currently closed.