THURSDAY: Sheriff Mitzi Johanknecht and more @ October's North Highline Unincorporated Area Council meeting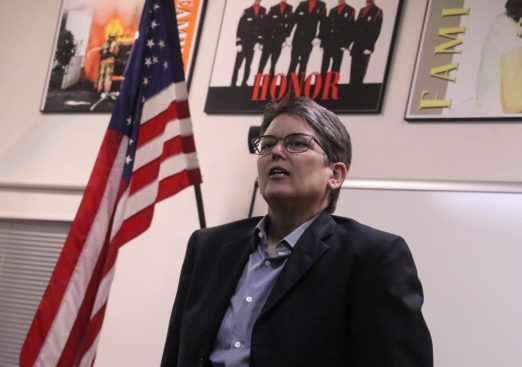 (WCN photo from September 2018)
Got a crime/safety concern? Bring it to the Sheriff herself on Thursday (October 3rd) at the next meeting of the North Highline Unincorporated Area Council. Just announced:
North Highline Unincorporated Area Council Meeting

When: Thursday, October 3, 2019 at 7 pm
Where: North Highline Fire Station at 1243 SW 112th Street in White Center
(Parking and Entrance are in the Back of the Station)

The Opportunity to Be Informed, Be Involved and Be Heard!

Were you at last month's North Highline Unincorporated Area Council meeting? If so, you know that our community is struggling. Fear, anger, and frustration are felt by many. Deputy Bill Kennamer and Major Jesse Anderson of the King County Sheriff's Office (KCSO) spent much of the meeting listening to concerns and responding with information about what is being done by KCSO to try to deal with chronic issues found in our community.

This month, we will be joined by the woman who puts Sheriff in KCSO. It's been a little over a year since Sheriff Mitzi Johanknecht last joined us. Sheriff Mitzi has been with KCSO since 1985. Her history with KCSO includes being the first woman to command KCSO's SWAT team and serving as the Commander of Precinct 4. She was elected in 2017. This will be a good opportunity to learn about her plans, challenges and goals. Do you have questions and thoughts you'd like to share with Sheriff Johanknecht? This is your chance!

The Comprehensive Plan is King County's long-range policy for land use, regulations and regional services such as housing, transit, parks, trails and open space. After nearly two decades, King County has initiated a new subarea planning program for each of the county's local service areas, including North Highline. This planning includes an assessment of the area's land use goals, population changes, new development, and other demographic and socioeconomic indicators.

King County's David Goodman and Mark Ellerbrook will share some of the plans King County has been working on for our community, including our Subarea Plan and a micro-housing project. This will be an opportunity to ask questions and make comments about the long-term, far-reaching plans, which are sure to mold our environment and future.

Once again. White Center Storefront Deputy Bill Kennamer will update us with news and crime statistics from KCSO.

Then , the floor will be open for announcements.

Knowledge is power. Learn, share and help make our community a better place!

Thursday, October 3, 2019 at 7 pm

Bring a Friend!
You can follow any responses to this entry through the RSS 2.0 feed. Both comments and pings are currently closed.