FRIDAY: Richard Hugo birthday celebration at Mac's Triangle Pub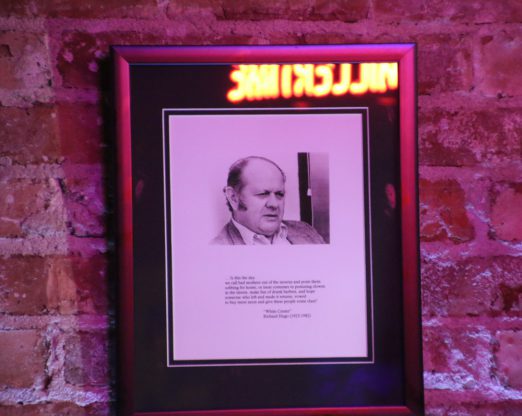 That's the tribute to poet Richard Hugo, installed last year at Mac's Triangle Pub (Delridge/Roxbury) during the first annual official celebration of his birthday. The second one is set for the same spot, this Friday at 7 pm, and you're invited to come honor him by reading one of his poems .. or maybe one of your own. The announcement:
Poet Richard Hugo (1923-1982), has another birthday coming up. It's December 21st. Born in White Center, Hugo was a poet and teacher whose books included White Center, The Triggering Town, Death of the Kapowsin Tavern, amongst other works. Seattle's Hugo House is named for him. Celebrate his life and work and lift a pint on his birthday at Mac's Triangle Pub in White Center.
Here's our coverage of last year's celebration.
You can follow any responses to this entry through the RSS 2.0 feed. Both comments and pings are currently closed.