Marijuana-business Q&A and more at North Highline Unincorporated Area Council's November meeting
By Tracy Record
White Center Now editor
What's been a concern for a long time – the concentration of marijuana stores in North Highline – was aired Thursday night at the North Highline Unincorporated Area Council meeting, with a panel of state and county reps answering questions.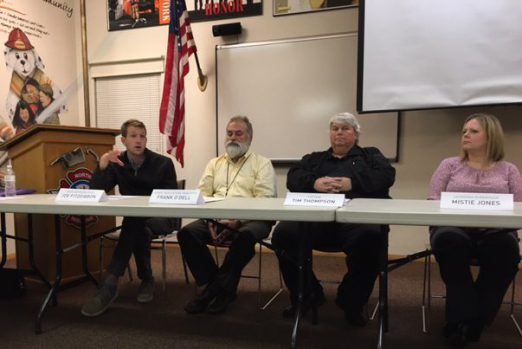 MARIJUANA DISCUSSION: Panelists were State Rep. Joe Fitzgibbon, regulations analyst Frank O'Dell, enforcement Capt. Tim Thompson, and licensing supervisor Mistie Jones from the state Liquor and Cannabis Board; Karen Freeman from the King County Executive's office; associate planner Jake Tracy and planner Kevin LeClair from the county planning department.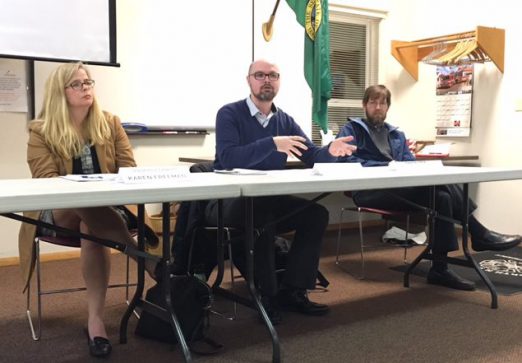 "You're saturated with the retail stores," O'Dell acknowledged in response to the opening question by NHUAC president Liz Giba about how this area compares to others in terms of the presence of marijuana businesses. Nine of the 17 unincorporated-area licensees are in North Highline, O'Dell said. "What sticks out like a sore thumb is that you have more than 50 percent of the retail stores in unincorporated King County in this community."
Why is that?
"Because the license applicants chose this community," O'Dell said.
Tracy explained that retail businesses are allowed in two zones. Over the years, King County has lost some of those zones as unincorporated areas have become parts of cities. So this area is the largest remaining in that zoning class. Also, landlords' willingness to rent to these types of businesses can be a factor, he said.
Next question – how does the density of those businesses compare to nearby areas such as Burien and West Seattle? (We know the latter has two. Burien has two, someone from the audience said.) O'Dell said the state originally planned to allocate 334 licenses for stores. Then a bill passed asking LCB to look into more licenses, so "the board decided to add 222 additional, for 556 total." Some cities were "allocated specific numbers," he said, "so they won't all congregate in one specific area."
Cities and counties can impose their own limits on how many stores, O'Dell said after a back-and-forth about allotment of licenses per specific areas.
"So shouldn't someone who wants to open a store get a license from the state before applying to the county?" asked Giba.
O'Dell said you would think – but there's no state law that says they have to get the state license first. Tracy said that multiple jurisdictions are often involved in situations where someone is pursuing a new enterprise – like a development project, for example. He also said that the county does include "community business zones" that could be eligible for marijuana stores, in Fall City, for example.
The possibility of expanding the areas is under study by the County Council, an attendee pointed out.
Freeman explained, "When the county took a look at where they wanted to make this use available, the zones they chose were community business and regional. Then we heard from the community a concern about the number of stores, so we put in a new buffer. The council said, let's take a look at other zones and have a study. That study is under way." Yes, but that study was due last December, per an attendee. Freeman said the delay was because it was under the purview of a fee-funded department.
Another attendee said he's visited local marijuana stores and is "pretty impressed by how they work," but the concentration bothers him because it's potentially affecting property values and the crime rate. "You can't have it all in one concentration area, which isn't good for the community."
Freeman said that's what the "buffer" was about. LeClair elaborated on it, saying that after the businesses clustered in North Highline and Skyway/West Hill, the council said that no two businesses can open within 1,000 feet of each other (though the existing ones are grandfathered – "we can't put legitimate legal businesses out of business (because of this) unintended consequence").
Can marijuana excise tax be used for more research or something else to alleviate the situation? an attendee asked. Freeman said that the money received from that tax goes to the King County Sheriff's Office, as it has to be used for enforcement-related activities. How much money does it generate? asked Giba. "$1.1 million to unincorporated King County in the most recent fiscal year," said O'Dell.
NHUAC vice president Barbara Dobkin said she had heard the Sheriff's Office say the money went to cover part of its budget gap, not to fund anything new. Freeman used that opportunity to mention the archaic system of how the county is funded.
If money is supposed to be generated by permit fees from projects, another attendee said, why are some projects being built without permits, according to online records (or lack of them)?
LeClair said, "The state of things with code enforcement, which is what you are talking about … The great majority … do the right thing and get permits when it's required. There's going to be people who don't. We don't have enforcement officers rolling around the streets looking at projects saying, did they get a permit or not?" If you know of something without a permit, tell the county, he urged. Freeman echoed that the county expects residents to be their partners in flagging things like this.
Dobkin then brought up a past meeting at which they were told that White Center wasn't going to have any marijuana stores, and then something changed and the community wasn't told, before all the stores started popping up.
Couldn't the stores be taxed to help pay for enforcement and other needs? someone asked. That wasn't directly answered.
Next question was for Rep. Fitzgibbon. Could he introduce legislation that could affect "this particular situation where King County says our hands are tied… and yet we have these very disproportionate uses … going on?"
Fitzgibbon said theoretically a state law could be passed to close some of those businesses but he thinks it would be very difficult if they are up and running and following the law. He said he thinks it likely that some of them will eventually go out of business, and because of the buffer law, they won't be replaced. (It was pointed out later that a store can change hands, and if it's not closed for more than six months in the meantime, it can reopen.) Fitzgibbon also wondered if the state could set aside the money generated by White Center to be used for the needs of White Center – instead of having KCSO use it to cover a budget gap, he said he thinks it would have been great for it to have been used to hire extra deputies for the area. But "my preferred option would be just to get them more money," and there could be multiple ways to do that.
Tracy added that if a store closes for at least 6 months, it will no longer be "vested" and can't reopen in that location. He too agreed "the number probably will go down over the years."
The robberies at the local shops and the "cost to the community" was brought up; nobody on the panel had stats on that, though Giba recounted the robberies that had been reported in recent months. "But to be fair, 7-11 in Top Hat has been robbed," pointed out an attendee.
LeClair asked O'Dell if there's a differentiation between stores with and without medical endorsements. Short answer, no.
Another attendee wondered about the local stores' security.
Capt. Thompson said every retail licensee has requirements for alarms and surveillance cameras, as well as "quarantine areas" with 24/7 surveillance. "When you hear about robberies, first thing the Sheriff's Office does is pull that video – that's helped catch a lot of (suspects) … but a lot of these are smash and grab type things," he said. O'Dell said that the stores are required to keep their security video for at least 45 days. And if you have suggestions for more security rules, you can send those comments to the state.
Were liquor stores ever this concentrated? someone asked. Rep. Fitzgibbon said, not the state-run stores, but cannabis stores are privately operated and so go into competition with each other. He said in retrospect, the buffer would have been good to have from the start.
The discussion also veered back into history – including the unregulated medical-marijuana "dispensary" days. Now, as Fitzgibbon explained, there's just one category of store, but it can get a "medical endorsement"; there are tougher rules for people's eligibility for medical-grade products. The bill was passed just two years ago so Fitzgibbon says it would be good to get feedback on how the prescribing process is going.
So if marijuana is legal in general, why do you need a medical-marijuana card? For one, patients don't pay the taxes for their medicine, "but we weren't just going to grant that tax break for everybody," Rep. Fitzgibbon explained. Also, patients are allowed to grow some at home.
What happens to the marijuana stores open now, if North Highline is annexed? Freeman explained that Seattle is the only entity that is currently eligible to annex the area, since Burien removed it from their potential annexation area. She said Seattle continues to "work on an annexation proposal." But now Seattle is on the brink of another mayoral change, and, she said that city staffer Kenny Pittman continues working on a proposal that would be up to voters to decide the fate of.
Giba brought up the case of the marijuana-production/processing facility that for a while was proposed for the lower level of the building where Beer Star, Li'l Woody's, and CTO are now open. LeClair said that they had to seek a "conditional use permit" because of the size of the area of the building they were proposing using for marijuana drying. Giba said they only found out because of a mailing to "property owners within 500 feet." She notes that most property owners in the area are not community members, so "much of the community was not notified." Wouldn't 1,000-foot notification be better? LeClair said he thought that's a good suggestion, but "it just wasn't something we thought to do at the time. … (but) as evidenced by the amount of feedback we got, people heard about it." Dobkin said, "People heard about it because we spread the word." The county published official notice in two "newspapers," said LeClair, and they have notices online. (Still not high visibility, it was noted.)
The project eventually couldn't go forward because it was too close to a school, Giba noted – the nearby businesses that cater to families, such as Full Tilt Ice Cream and Southgate Roller Rink, didn't factor into it, but, she thinks, should have. Rep. Fitzgibbon says there certainly could be legislative discussion of changes to the buffer zone. The LCB's O'Dell said that Full Tilt didn't qualify as an "arcade," though it has games, so didn't fall under rules relating to distance between marijuana businesses and those types of facilities.
But Fitzgibbon pointed out that the buffers already existing mean that marijuana businesses are only allowed in certain areas, which has led to concentrations such as SODO.
An attendee asked about the huge mixed-use project being built in Top Hat on the former supermarket site. LeClair talked about how long that site had remained empty and how much the county wanted to see it be redeveloped. And, he told someone else who asked, its retail can't have marijuana stores because that would be within the 1,000-foot buffer of the existing stores.
Toward the end of the discussion, there was more talk about the distribution of stores around King County. Freeman pointed out that some cities banned them altogether – and can't be forced to accept them. And again, she noted that urban, unincorporated King County is now a relatively small area, "and that's part of the issue." Giba wondered if King County could have appealed the state's designated allocation of stores. "No," said O'Dell. She also said it was a lot of time and trouble to pursue an appeal in the case of the marijuana-processing facility without knowing that it didn't have a state license anyway – a license without which it couldn't operate, but there was no requirement that it get the license. It was a lot of wasted time and trouble for the applicant, too, said LeClair: "We had (staffers) processing plans that were never going to come to fruition," since the applicant said they were willing to take the risk. "I'm sorry the community had to go through the trouble … but from our standards we felt they met the criteria."
"But they didn't tell us until the late afternoon before the pre-hearing conference with the hearing examiner," protested Giba.
"Same here," said LeClair. (Apparently the applicant thought they would have been getting a license transferred from Enumclaw.)
Freeman promised to take the concerns back regarding possible changes to the process.
Dobkin asked her about the county continuing to allow densification despite saying it doesn't have the services to support density in unincorporated urban areas like this.
"We don't build," said Freeman.
"But you permit," said Dobkin.
"But you are an urban area," retorted Freeman. "… the county's zoning and our processes and administrative rules are designed at rural levels, that's what we do. I hear you. (But) until urban unincorporated areas get to 50 + 1" (in favor of annexing to a city) "we are stuck in this very uncomfortable situation."
The question came back around again, what exactly does marijuana tax money pay for, and do tax dollars generated in North Highline, for example, get spent specifically in North Highline? Enforcement is the stipulation for what the money goes toward, but exactly what "enforcement" means, is up to the local recipient – the King County Sheriff's Office, in this case, and they decide "where to put those dollars," Freeman said, as well as what the money goes toward.
Also at Thursday night's meeting:
COALITION FOR DRUG-FREE YOUTH: The coalition's Maddison Story explained the group's work to NHUAC – it works under Navos, with prevention teams at Cascade Middle School and Evergreen High Schol, life-skills training at Cascade, a parenting-skills program for Latino and Somali families, countywide "multilingual media campaigns," and community surveys "to assess awareness levels and attitudes of community on drug/alcohol use" – among other work. In some of the survey results from last year, their results showed: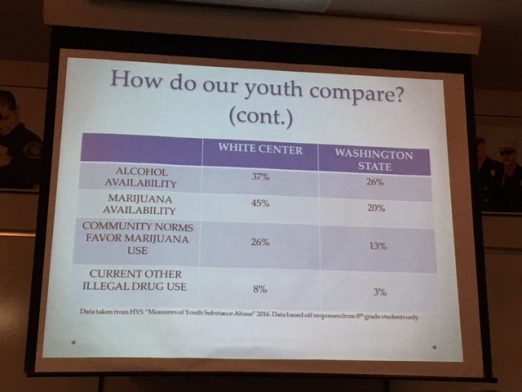 Community perceptions include that more than two-thirds of people surveyed believe that alcohol and marijuana use are problems in the community, and that both are easy for youth to access. Right now, this year's survey is under way (we'll add the link when we have it); the coalition also invites you to its monthly meetings – next one is 12-1:30 pm at Seola Gardens Community Room, 11215 5th SW.
OTHER BUSINESS: An open house is planned for the Boulevard Park Library project, 6:30-8 pm Thursday, November 16th (12015 Roseberg Avenue S.): "Learn about the upcoming interior remodel. Meet the team from Building Work Architecture," invites the flyer.
The North Highline Unincorporated Area Council meets first Thursdays most months, 7 pm, at North Highline Fire District HQ. Between meetings, watch for updates at northhighlineuac.org.
You can follow any responses to this entry through the RSS 2.0 feed. Both comments and pings are currently closed.