BASEBALL: Highline Bears sign manager Josh Evans for second year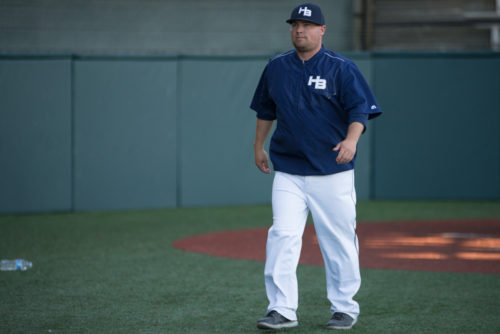 The photo and announcement are from the White Center-based Highline Bears:
On Wednesday, September 13, Highline Bears Manager Josh Evans signed a new contract through the 2018 summer season. Evans will be the Bears' first two-year manager since the team's inception in 2014.

"We're excited to bring back Josh Evans for another season and I'm excited to see what he can do with a full off season to build his team. Last year we were late on getting a manager signed but now we're hitting the ground running," explained General Manager Justin Moser. The Bears have already started the recruiting process, attending fall practices for local colleges and reaching out to programs in hopes of finding top talent for their 2018 summer season.

The Bears got off to a rocky start, struggling to put up runs against opponents in early June. But in the second half of the season under the leadership of Evans the Bears came out fighting in big games, taking 3 wins from the West Coast League, the premier summer college league on the west coast, and taking down the league champion Seattle Studs, as well as the Everett Merchants. "We start off slow every year, it was expected. We are a home for a lot of freshmen and red shirts who have very few at bats and innings pitched coming into the season. Our job as a summer collegiate team is to give these guys an opportunity to get better, and go back to their school in the fall ready to win a starting job. Most of the teams we play are older and much more experienced, which is great for our guys to compete against. The teams we are playing now are much more competitive than ever before. We played four or five guys who were drafted or signed to pro contracts this year," said Moser.

"I'm excited to be resigning with the Bears for another season, and even more excited to have a full off season to recruit players. I'm just pumped!" exclaimed Evans, who is currently looking to sign two additional coaches for next year. "We're looking for a first base coach and bullpen coach. Guys who can help with throwing B.P. (batting practice) and hit fungos. I'm just really excited to be a part of building this organization, and can't wait to see what we can do."

"It's going to be a great season for us next year, we're starting at the right time and getting things rolling on and off the field. Steven Finch is going to move full time into a front office role, helping me with marketing and running the business, and we're going to let Evans run the baseball side of things." Moser explained that the team will be adding more home games to their schedule in hopes of having 25 games, along with promotional nights and lots of fun and exciting events for kids.

The Bears are currently looking for businesses to partner with for the 2018 season and anyone interested in partnering can contact General Manager Justin Moser at Info@HighlineBears.com. Anyone interested in playing for the Bears can contact Manager Josh Evans at Josh@HighlineBears.com.
You can follow any responses to this entry through the RSS 2.0 feed. Both comments and pings are currently closed.