FOLLOWUP: Unified Brewing to take over ex-Big Al's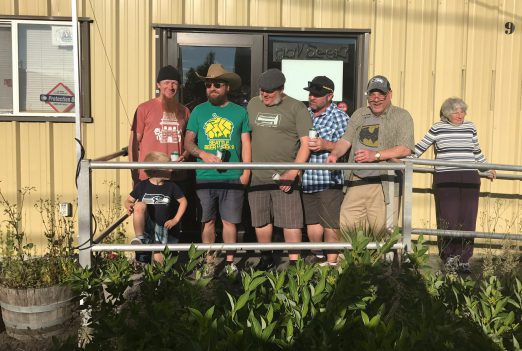 (Photo courtesy Unified Brewing)
Just in – the announcement that the former Big Al Brewing location at 9832 14th SW in White Center has a new brewery moving in:
After nearly two years of searching for a location, and trying to keep our plans under wraps, we are excited to introduce to the world, Unified Brewing Company. We recently signed a long-term lease to move into the old Pacific Rim Brewing / Big Al Brewing location in White Center. There has been a brewery in that building for nearly twenty years and we're happy that we can continue that tradition of being White Center's Brewery.

We'll be doing a little more than putting on a fresh coat of paint. We recently put down our deposit on a new 20bbl Brewhouse from JVNW out of Canby Oregon, a manufacturer we feel is at the top of their game for brewing equipment. We'll brew a wide variety of styles to be served in our brewpub as well as some limited distribution.

Our team collectively has over 50 years experience in the beer world in all facets from Production, Importing, Distribution, and Publican:

Our partner and Brewer, Kevin Watson, has brewed for over 18 years for the likes of Hales, Allagash, and most recently Elysian Brewing. Having grown up in White Center, he is pleased to be making beer just down the street from where he played little league and mere blocks from where he first homebrewed in his parents kitchen.

Mike Baker, former founder and owner of Baron Brewing Company in South Park, Seattle, is also responsible for bringing delicious German beers to the U.S. through his import company NW Beverage Group.

Dean Hudgins and Ian Roberts are the owners of The Pine Box, a successful craft beer bar on Capitol Hill.

New to the beer biz is Larry Solomon, a friend from across the bar top with a wealth of business knowledge.

Mike Baker and Ian Roberts are also two of the founders and organizers of Seattle Beer Week, a ten-day celebration of all things beer across the city, now going on its 10th year.

With all of our renovations, licensing, and equipment on order, we plan to be open to the public early 2018.
You can follow any responses to this entry through the RSS 2.0 feed. Both comments and pings are currently closed.