FOLLOWUP: White Center Chamber of Commerce meets again to talk about graffiti-vandalism fight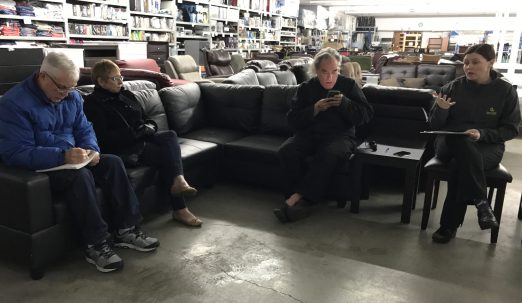 The White Center Chamber of Commerce's battle against graffiti/tagging vandalism is still getting off the ground. This past Monday night, about a dozen Chamber members and community advocates gathered again at Northmart to talk about it, two months after the previous meeting (WCN coverage here).
Dr. Kathleen Paulson from Cascade Heights Veterinary Clinic (9832 15th SW) led the meeting. Her clinic has forms that residents and business owners can use to identify graffiti vandalism and take to McLendon Hardware (10210 16th SW) to get the Chamber-arranged discount on paint and other supplies to get rid of it. The Chamber also is working to find a go-to person who can be contacted directly to go paint out vandalism when it's reported, and to locate a storage area for paint and supplies that person will be able to deploy.
As for current trouble spots, the alley east of the east side of the heart of 16th, between Roxbury and SW 98th, was mentioned by several attendees.
You can follow any responses to this entry through the RSS 2.0 feed. Both comments and pings are currently closed.