WHITE CENTER SUMMIT 2017: 'Now we can help'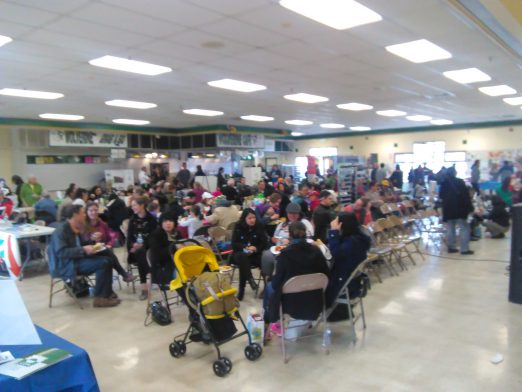 Story and photos by Cliff Cawthon
Reporting for White Center Now
On Saturday, more than 200 people gathered at this year's White Center Summit, organized by the White Center Community Development Association (WCCDA) at the Evergreen Campus.
In contrast to the tumult resulting from actions taken in "the other Washington" just before the weekend, the summit gathered a diverse cross-section of the community to create networks between neighbors and organizations and to discuss solutions.
The summit kicked off with exhibitions from a variety of service organizations, community foundations, and nonprofit organizations. "The challenge of White Center being unincorporated Seattle and not having a local government structure [can be] to support some of the services and local activities," said Sili Savusa, WCCDA executive director. The community summit was organized in order to harness the power of the community, as Savusa expressed that [White Center residents] "feel that there's still strength here by the people who live here."
Residents highlighted concerns around education, health, economic development, neighborhood safety, and affordable housing. There was a thoroughfare of organizations offering different services and promoting advocacy for components of the community.
Two of the organizations tabling at the event were the YES Foundation of White Center and H.E.L.P., represented by Pat Thompson and Rayonna Tobin, respectively. The YES Foundation is focused on serving children and youth and connecting them with programs on leadership and post-secondary education. The latter organization supports families of incarcerated people, whether it comes to counseling and emotional support or making up for the loss of income and stability in the home.
After some mingling, breakout groups were formed to seek innovative solutions for community concerns identified by participants, including: Youth; Affordable Housing; Neighborhood Safety; Economic Development; Education and Health Strategies.
Participants in the breakout sessions took away either contacts or information to help develop the neighborhood. During the economic development session, Hugo Garcia, a risk-management officer with Craft3, a Community Development Financial Institution, discussed how his organization helps "fill the gap" where other banks fail to support small businesses, nonprofit programs and projects, etc.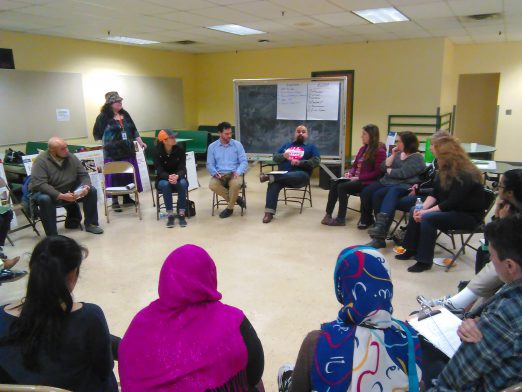 The gap that the lifelong White Center resident referred to was the aversion that banks and other traditional financial institutions have toward supporting some of White Center's small entrepreneurs of color, immigrants, and women.
During the affordable-housing breakout session, facilitated by Marie Pino, a neighborhood-outreach coordinator with the WCCDA, residents addressed the increasingly stark challenge of finding affordable housing in White Center due to development.
"The things that we have [found] on our map today are new commercial developments … that people don't recognize, and we've seen some changes in ethnic communities," said Giulia Pasciuto, a policy researcher with Puget Sound Sage.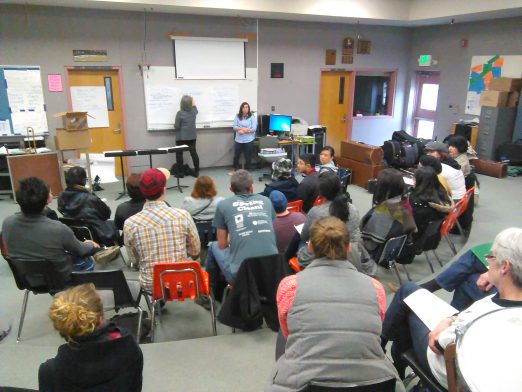 The research conducted by Puget Sound Sage and Futurewise shows that these new developments have raised rents and introduced new market-rate apartments. Traditionally low-cost housing has become more inaccessible as "housing prices are increasing just north of the White Center border in Seattle. The home-ownership price in White Center has increased substantially in the last few years." In Pasciuto's opinion, a mixture of strategies – similar to comprehensive efforts within Seattle city limits – is necessary.
For Savusa, the housing and economic-development data that community partners have gathered is essential. "Our role is to find those resources and bring them into the community and find commitments to [work on] what [is] important here to the families," as Savusa described the CDA's role in building the community's assets. For Savusa and the CDA, "what gets in the way are a lot of policies [that] get put into place" that don't reflect the nuances of White Center's diversity.
After the workshops, I found the opportunity to speak with Joyce Yee of the League of Education Voters. She was tabling at the event and is currently hoping to not just advocate for more funding for schools, but for how it is used in K-12 education: "Our main message is that it should be an equity question about how do we drive more funding to schools and students who need more, [such as] English as a second language and special-needs students, and those in special assistance programs."
Educators and education advocates who had ties with the community made up a significant percentage of the attendees. Tonya Powers, director of Baccalaureate Programs and Workforce at Highline College, explained that Highline offers services to residents of White Center and that its student population is expanding due to rising housing costs in Seattle leading more people relocating to South King County, including locations like White Center.
As the event came to a close, Hodan Bulale, the CDA's Family Success Partner of the event, spoke a bit with me about the post-summit work. She spearheaded outreach to many community partners and stakeholders, as well as personal connections – since many CDA employees were born and/ or raised in White Center: "We got to have a conversation about things that really matter … really important things that impact [us] on a daily basis. I like how they were a part of this conversation. We understand, we can relate and now we can help."
You can follow any responses to this entry through the RSS 2.0 feed. Both comments and pings are currently closed.