WHITE CENTER SHELTER: 2nd community meeting replaces shouts with applause; shelter expected to open in March; site's future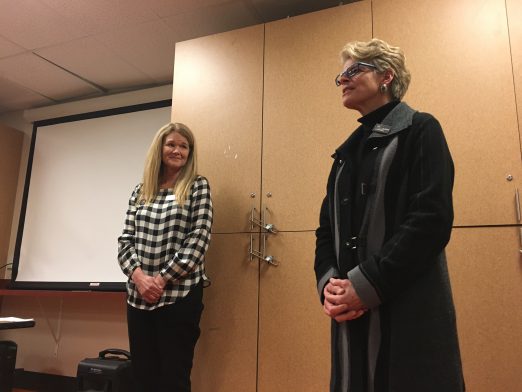 (WCN photo: Marty Hartman from Mary's Place at left, Adrienne Quinn from King County at right)
By Tracy Record
White Center Now editor
Mused one person after last night's meeting about the revised White Center shelter proposal: If only King County had collaborated with the community first, rather than resorting to that only after getting shouted down while presenting a wildly unpopular proposal.
Last night's meeting featured nary a shout – instead, applause, and words of gratitude, dominated.
Though it was officially the second community meeting about the plan for a shelter at a vacant county-owned building at 8th/108th, much transpired after the first one in September (WCN coverage here), when the plan was for a no-barrier, limited-hours shelter serving only adults. A community task force was quickly created, and oversaw the plan's shift to one for a family shelter to be operated by the respected nonprofit Mary's Place.
Last night, before just a few dozen people in a meeting room at Seola Gardens, Department of Community and Human Services director Adrienne Quinn opened with background on what had changed since the September meeting.
"We began a conversation about having a shelter for single adults at the White Center Public Health Clinic…candidly, the county learned a lot about the process, and it will change the way we will approach things in the future. … Many community members felt concerned about having a shelter for single adults," raising a variety of issues. "On the flip side, people started talking about the number of homeless families in Highline Public Schools. … There certainly is a need."
Along with proceeding with the plan to open the family shelter, they are working on another location for a shelter for single adults, Quinn noted. (We asked her post-meeting if there was any chance that would be proposed in this area; she said, emphatically, no.)
She also thanked the White Center Community Development Association, North Highline Unincorporated Area Council, and other community members who participated in the work group after that first meeting. "As a result of that process, we put together a community agreement" — you can read it online here. It will result in quarterly community meetings, Quinn said, to talk about, for example, how the shelter is working, and she invited people to join.
"We have a high degree of confidence in Mary's Place," Quinn said, and the organization will have a 24/7 line. "These children and families are part of the White Center community," she added, saying there are at least 35 homeless families in the area. Key points right now:
*The permit is under review
*The building needs some upgrades, including fire code, added showers, and HVAC
*They're hoping to open the shelter in "early spring" – hopefully March
Quinn gave the microphone at that point to Marty Hartman, executive director of Mary's Place.
She started by showing a video that she had shown at a NHUAC meeting last fall, about family homelessness. "The need continues to grow," Hartman said afterward – their "turnaway roster" had nine families today.
They have a model of using "underutilized" buildings, that are set for future redevelopment, "and we stay only as long as people want us to stay." They have 400 beds in six buildings around King County right now, with the goal of bringing families, together, in from encampments, tents, cars. She invited people to come in, tutor the kids, "paint somebody's nails because she has a job interview tomorrow." More than a gap in resources, she said, there's a gap in relationship issues. "We don't do anything well by ourselves," she said – they need community members to come in, and dozens of nonprofits with whom they partner.
In the past year, they've had 48 newborns in their shelter. "These parents are heroes – they walked in the door and asked for help." They set goals with those who come to them, including housing, employment, health. They offer classes, legal counseling, and more, "helping people deal with the root causes of their homelessness." She said they appreciate volunteers.
In 2010 they had 2300 "bed nights" of shelter; in 2016, 100,721 "bed nights," with their motto to make sure "no child sleeps outside." (Earlier today, they had announced $4.5 million in new support for their work.)
Hartman said that buildings full of families "scare (criminal activity) away … We know things don't go perfect, and things will go wrong in our shelter," and if "something's bothering you, we don't know until you tell us, so we can fix it."
Also speaking, neighbor Owen, who had been part of the work group and identified himself as a counselor with Highline Public Schools. He said that having a shelter here will mean that kids will spend less time in transportation to school, more time doing their schoolwork. He said the work group had brought together a lot of people with different views on responding to homelessness, but they listened and were heard. He expressed hope that as the families are helped, they can deal with "the next ring" of people experiencing homelessness.
Also from the work group, Roslyn Hyde, who said she would be channeling (NHUAC president) Liz Giba (who was home sick and unable to attend but had been deeply involved with the task force). Hyde recently joined the NHUAC board. She talked about what it was like at the first meeting, feeling "cheated … duped … hopeless" and working to be sure the community would be heard. She started a petition. "You made this change happen," she told the audience. "… You were all heard. … Change happened." She thanked the county reps for listening. "We learned that the Highline school district has the fourth-highest rate of student homelessness in the state." She said they were thrilled that Mary's Place will "be our new neighbors" and spoke of how well-respected the organization is, as well as voicing hope that people will volunteer and donate. The shelter is likely to be there for three years, she said, and the community will need to be vigilant. "Let's lead by example and welcome Mary's Place."
Joseph Benavides, who lives next to the shelter site, spoke about how defensive everyone had been at the first meeting – "but we worked through it." Originally, he said, "we felt belittled" – but when the small group came together, that changed thing. "It's going to be a work in progress … but no child belongs outside. I'm going to team up with them" and get involved with the families, he vowed. "I'm from White Center, and I care." He contrasted it with the Seattle plan for more tents in a Myers Way encampment, and said that wasn't right for anyone. But he ended with praise for this new plan.
Before community Q/A, Hartman introduced five members of her staff, from maintenance to volunteer coordinator. She said they've already hired others to work at the new shelter to get it up to speed.
First question: Hoped-for opening date. Hartman said March 1st is what they are working toward. As for how soon people can start helping, 9 am-1 pm (maybe later) February 11th will be a work party at the site – washing windows, scrubbing fixtures, trimming the shrubbery, planting flowers. (Look for the volunteer contact on the Mary's Place website to RSVP. All ages welcome.)
Will the baby pantry stay at the building? Yes. Ian Smithgall from White Center Food Bank stood up to elaborate. "Anything we can do – obviously, food donations, we'll appreciate."
Is money more important than donated items? someone asked. Hartman said money is always important but they don't have a budget for supplies so they appreciate it – diapers, formula, more. "We always have a wish list going … we like kids' snacks, reusable bags … backpacks for kids, gently used stuff goes a long way." Sheets and blankets too – twin sized, preferably, because that's the size of beds they have. "And we need Pack 'n' Plays for the babies."
How soon will they be able to store items? King County's Mark Ellerbrook said they're working on figuring out how to make that happen even before the building is ready.
Books are something else they can use, Hartman acknowledged.
Next comment was about improving ingress/egress to the site, to lessen traffic concerns, and Quinn said they'll bring that to the attention of King County Roads. "I think it's going to be an ongoing thing, to keep them engaged," and community members will have to let them know what they're seeing.
Trails around the building could be used for walks, it was suggested.
No other questions emerged. "Thank you for being brave," Quinn told community members. Hartman ended with words of thanks, too, noting that Mary's Place has not worked with King County before.
As for the future of the site – several years down the line – it's been mentioned before that plans were brewing for a development involving housing as well as headquarters for nonprofit. Steve Daschle from Southwest Youth and Family Services got up to speak about that, and about his organization, which has expanded its work in South King County in recent years. Daschle promised to "engage the community" in what the site's future "center of learning, sharing, and healthy food with homes for working families" vision is. "So many unknowns when it comes to that piece of property," he said. "At this point we have dreams, and we hope you'll share in (them)" as they continue to talk about it.
You can follow any responses to this entry through the RSS 2.0 feed. Both comments and pings are currently closed.