VIDEO: RV burns in White Center, nobody hurt
(WCN reader video)
ORIGINAL REPORT, 5:42 PM: Maybe you saw the smoke – that RV caught fire on SW 100th by 14th SW in downtown White Center this afternoon.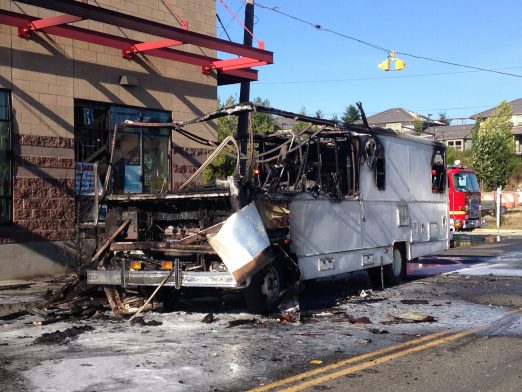 (WCN photo by Patrick Sand)
North Highline Fire responded, and Seattle Fire sent an engine to help. Our crew at the scene was told nobody was hurt, and the cause is under investigation. You'll want to avoid the intersection a while longer as they work to get the damaged RV in a position where it can be towed.
ADDED 7:06 PM: Thanks to the reader who sent the video we've added atop this story. You can see why the side of White Center Square (which opened six years ago) was scorched; at least one window shattered from the heat, at Aaron's Bicycle Repair, reader Gill tells us – you can see it behind the RV in Gill's aftermath photo: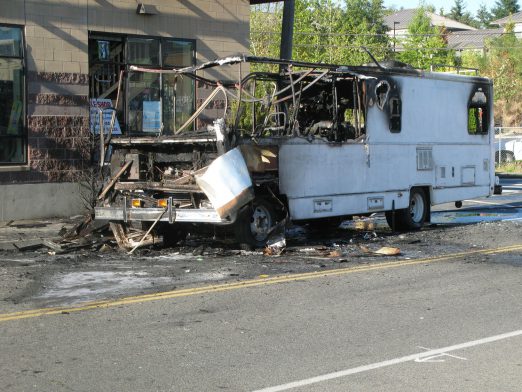 Cory sent this photo from the other side of the burned RV: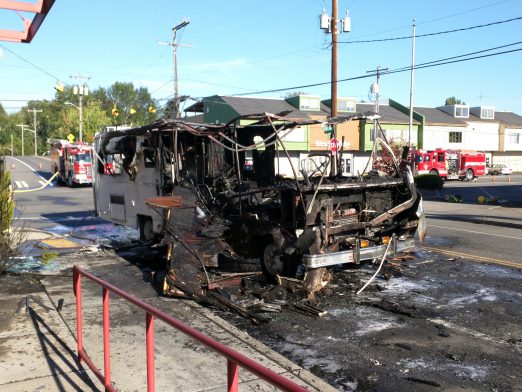 Gill reports Fire District 2 (Burien) was on scene too and investigating.
You can follow any responses to this entry through the RSS 2.0 feed. Both comments and pings are currently closed.