UPDATE: Crash-and-grab break-in at Top Hat pot shop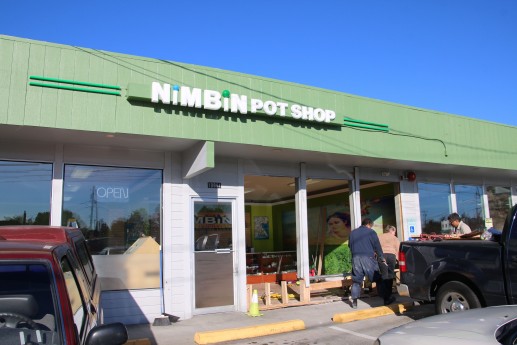 11:09 AM: Thanks to the reader who tipped us to this: The Nimbin recreational-marijuana store at 10861 1st Avenue South in Top Hat is cleaning up after an early-morning break-in via vehicle. We are still working to get information from the King County Sheriff's Office, but they confirmed that, as our tipster said, a vehicle drove into the shop, and that they would be open today even as repairs continue – they were not commenting on what if anything was stolen. This is one of three state-licensed marijuana stores that have opened this year in unincorporated North Highline. We'll update when we get info from KCSO.
12:46 PM: KCSO spokesperson Sgt. Cindi West says a neighbor heard the crash around 2 am, then looked out to see that a "white truck" had backed into the shop. "The witness saw a man exit the truck and enter the business. The man was in the business for about a minute then returned to the truck and sped off. When deputies arrived they contacted the owner who responded to the scene. It appears as though some cash and an assortment of packaged marijuana was stolen." No description of the driver other than "male."
You can follow any responses to this entry through the RSS 2.0 feed. Both comments and pings are currently closed.