'Best Starts for Kids' levy campaign launched in White Center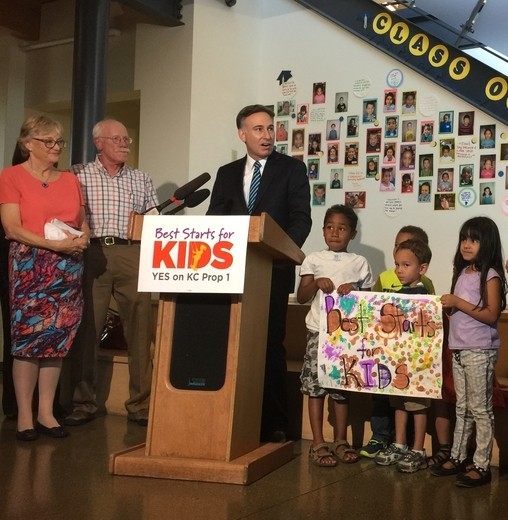 (Photo courtesy Best Starts for Kids campaign)
Though the August ballots are still being counted, the November campaigns are on, including a countywide levy that will be on your ballot: Best Starts for Kids, aka King County Proposition 1. The campaign for your "yes" vote began with a Thursday media event in White Center – here's the news release shared by the campaign afterward:
The proposed six-year levy would invest in prevention and early intervention strategies to increase the number of children in King County who reach adulthood healthy and ready to contribute to the region's prosperity

King County Executive Dow Constantine and other elected officials and community leaders from throughout King County urged voters to approve the Best Starts for Kids initiative that will appear on the November 3rd General Election ballot.

Best Starts for Kids is an initiative to improve the health and well-being of King County by investing in prevention and early intervention strategies based on the latest brain science that identifies key developmental milestones.

"Best Starts for Kids is our opportunity to transform the way we invest in our children's future by focusing on what works," said Executive Constantine. "This is how we will transition to effective upstream solutions that can prevent negative outcomes, including mental illness, substance abuse, domestic violence, and incarceration – and put every child in King County on a path toward lifelong success."

Executive Constantine was joined by King County Councilmember Joe McDermott, campaign co-chairs Matt Griffin and Michelle Sarju, and many more. The event was hosted at Educare School of Greater Seattle, an innovative Head Start program in the White Center neighborhood of unincorporated King County.

"Investing in children early in their lives provides the best opportunity to help them make the right choices and achieve their full potential," said Auburn Mayor Nancy Backus. "The earlier the investment, the greater the return. Healthy kids are more likely to become productive adults, avoiding issues that can put them into the criminal justice system."

Best Starts of Kids is informed by research by James Heckman, a Nobel Prize-winning economist who found that investing early in a person's development – starting with prenatal services – delivers the greatest return.

Heckman, Director of the Center for the Economics of Human Development at the University of Chicago, has devoted his professional life to understanding the origins of major social and economic problems related to inequality, social mobility, discrimination, skill formation and regulation, and to devising and evaluating alternative strategies for addressing those problems.

"The aim is to make the latest research and tools available to every parent and caregiver, and ultimately to produce talented, creative and successful adults who will help us remain a prosperous region," said campaign co-chair Michelle Sarju.

The Metropolitan King County Council voted overwhelmingly across party lines to support Best Starts for Kids and place the issue before the voters this November. Approval of the initiative would make King County one of the first metropolitan areas in the nation to adopt a unified, comprehensive plan, based on science, to ensure all children can develop the cognitive, emotional, and social skills necessary to succeed in life.

"This is a great investment opportunity not only in kids but in our community," Councilmember McDermott said. "Increasing the percentage of healthy children who become successful adults can help reduce spending on criminal justice, reduce homelessness and enable us to target mental-health and drug-treatment options to those who need them."

Best Starts for Kids will complement Seattle's preschool program and similar efforts by increasing the number of children who arrive at school each day healthy and ready to learn.

Half the proceeds from the levy will be invested in early childhood development, from birth through age 5 when 92 percent of brain growth occurs. That includes early intervention services that can prevent developmental delays from becoming lifelong disabilities and nurse home visitations that help at-risk mothers deliver healthier babies.

Current community-based programs in King County that increase the likelihood a baby is born at a healthy weight and that help prevent developmental delays from becoming lifelong disabilities are limited in part because the vast majority of the County's General Fund budget must pay for the criminal justice system, including law enforcement, courts and jails.

The six-year levy, at 14 cents per $1,000 of assessed property value, would cost the average King County property owner an estimated $56 per year, or about $1 a week. The levy would be overseen by a citizen's oversight board and generate an estimated $58.3 million in 2016 for the following allocations:

• 50 percent to early childhood development, from birth through age 5, when research shows that 92 percent of brain growth occurs.

• 35 percent to sustain the gain by providing early intervention services to address problems such as depression and developmental disabilities as the brain continues to develop through age 24.

• 10 percent to reinforce a child's progress by improving the health, social, and economic outcomes in the communities where they live.

• 5 percent to pay for evaluation, data collection and program improvement.

The levy would immediately fund a program designed to help survivors of domestic violence from becoming homeless. It will be based on a successful pilot project created by the Gates Foundation.

"We all want to live in a place where every child has the chance to succeed," said campaign co-chair Matt Griffin. "This is a chance to move our community forward and ensure that our children have the fair start to life that they deserve. It's just the right thing to do."
You can follow any responses to this entry through the RSS 2.0 feed. Both comments and pings are currently closed.