VIDEO: County's cannabis crackdown – sheriff, prosecuting attorney tell medical-marijuana dispensaries they're 'illegal'
If you hit "play" on the :15 Instagram clip above, you'll get an idea of how contentious this morning's cannabis-crackdown announcement in downtown White Center was. While there was a full turnout of regional media, there also was a notable turnout of people from medical-marijuana establishments, furious about what's happening.
Speaking outside the King County Sheriff's Office downtown WC storefront were Prosecuting Attorney Dan Satterberg, Sheriff John Urquhart, and Russ Hauge from (what's about to be renamed) the state Liquor and Cannabis Board. Satterberg wrapped it up with a message to the marijuana establishments: "You might not consider yourself illegal – we do." A copy was provided of the letter circulated to them (starting at least two days ago, according to what sources told us). While the officials gave conflicting answers as to what kind of "timeline" they expected for stores to shut down, the letter stated flatly in the sixth paragraph, "You will need to cease operations now, even if you plan on applying in the future for a state license …" and when asked, there was one suggestion that if stores aren't closed within a month, they would "get a visit." (added) Here's part of Satterberg's opening statement:
A printed list also provided to the news media included six White Center/Top Hat establishments:
Herbal Market, 10422 16th SW
White Center Alternative Care, 9839 17th SW
Pacific Coast Natural Medicine, 9817 16th SW
WCC, 9809 16th SW
Northwest Cannabis Market, 9640 16th SW
Herban Legends, 9619 16th SW
WPMC, 11009 1st Ave. S.
After the letter was circulated earlier this week, Herban Legends had this sign on its door: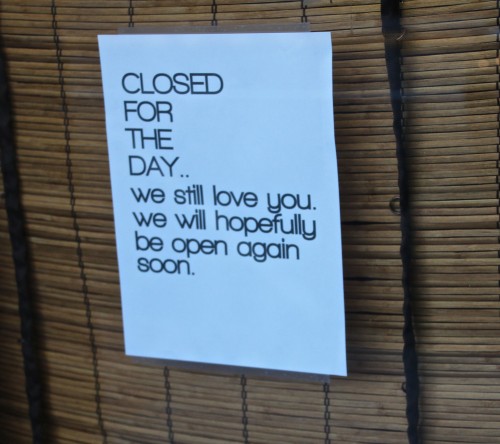 The county officials referred to the newly opened Bud Nation, a state-licensed recreational-marijuana store in downtown White Center, as an example of what they support, and what they feel is threatened by the unlicensed establishments. They also made it clear that the state was there "in support" of what was their initiative. They pointed out they are doing this under civil measures, not criminal, but also reiterated that they are serious.
The medical-marijuana advocates, meantime, continued to protest that they are offering medicine and that they believe this is just a ploy by the state because of competition – what they make MMJ available for is lower than the state-set prices.
More to come…
You can follow any responses to this entry through the RSS 2.0 feed. Both comments and pings are currently closed.