North Highline Unincorporated Area Council hears about marijuana rules in a 'fluid' atmosphere
Toplines from this month's North Highline Unincorporated Area Council meeting, featuring a discussion of the marijuana business and where it stands:
MARIJUANA REGULATIONS/PERMITTING/LAND USE: Ty Peterson from King County said "there's a lot of misinformation out there" but "the atmosphere is very fluid," with regulations diverging between cities, county, state, and several bills pending in the state Legislature. White Center has been "mostly retail oriented," he said. They don't know how many recreational-marijuana outlets could be allowed in the Highline area, except "no more than 11" since that's how many were allotted to King County "at large," covering the unincorporated area and about half a dozen small cities such as Black Diamond and Maple Valley, get to "split these 11" – and 4 are in operation now.
He said the interest has been in White Center and Skyway because of the zoning classifications. The county has been trying to do mapping based on the rules but is not having much success yet. "We know there's right now 11 licenses – the state Liquor Control Board is likely in the future to increase the number of licenses" but 7 remain. Kenmore, Covington, Enumclaw, and Skyway have licenses granted right now. No retail license has been granted in this area yet.
Peterson talked about the 1,000-foot "as the crow flies" distance that the state was enforcing between marijuana businesses and youth-oriented facilities. The county has no such rule, because the state said it would enforce that. There are some limitations – such as 2,000 square feet for a basic permit – and that's still undergoing interpretation.
"The intent was not to create a marijuana mall," said Peterson, in terms of figuring out what "2,000 feet per parcel" means and whether that could lead to a 10,000-square foot building hosting five 2,000-foot shops.
Where are the pending applications here? A production facility on 1st Avenue is one of them, he said, adding that it's being reviewed very carefully because the building already has a medical-marijuana dispensary.
NHUAC's Elizabeth Gordon asked for clarification if this is just still in a wait-and-see period, as the county comes up with some rules and waits to see if the state will override. Peterson said the county is exercising 'some basic zoning parameters" but is aware "it's a moving target" regarding what the rules are and to whom they apply and all. Right now, any further county rule changes are on hold pending what the state decides to do during this session – Peterson said they expect the medical/recreational marijuana oversight to be merged in some way or another. It was noted that House Bill 1552 is the bill considered to be most likely to pass.
He agreed that the medical side of the marijuana business was responsible for most of the problems they're hearing about because it's not being "regulated by anybody." There is no limit on how many dispensaries/access points there can be. Dobkin pointed out that there are 8 in a very small area. "A community like ours is … hit hard" by the concentration.
The whole thing is up in the air right now, seemed to be the bottom line, with questions swirling around permitting, enforcement, and the industry's future. What about money for helping a community like White Center deal with the impact? asked NHUAC's Liz Giba. Peterson said that wasn't necessarily on the table right now.
Gordon brought up a related point – with marijuana concerns converging here because of an abundance of low-rent commercial space, what about economic incentives to help bring in a broader range of tenant choices for landlords?
It was suggested that the county's comprehensive plan update could help with that, because it includes an economic-development section. Or, a sub-area (community) plan for the area could help, too. King County's Alan Painter added that the idea had possibilities. Dobkin added that a county rep will be at next month's meeting to talk about the comprehensive plan.
Peterson said there's a marijuana-information page on the county's permitting website, including an e-mail address you can use to send related questions.
LIQUOR CONTROL BOARD: A rep who handles marijuana businesses once they're approved says there is an application listed in the 9600 block of 16th SW. Olympia reviews and licenses applicants – that's when he takes over. He says there are security requirements – sensors on doors, video surveillance that has to be recorded for up to 45 days (and has to be high-resolution), multiple cameras in a room, sample jars, security at the doors, etc. One place had a $12,000 safe, he noted.
GRAFFITI VANDALISM: NHUAC president Barbara Dobkin noted a major amount of new graffiti/tagging along 15th SW on a building near Bartell Drugs that has a "for rent" sign up. She also noticed vandalism at Mount View Elementary.
SERVICE OPEN HOUSE: Alan Painter from King County announced that this year's unincorporated service area open house will be held in North Highline, 7 pm April 23rd at Seola Gardens. (Before we published this report, the flyer came in:)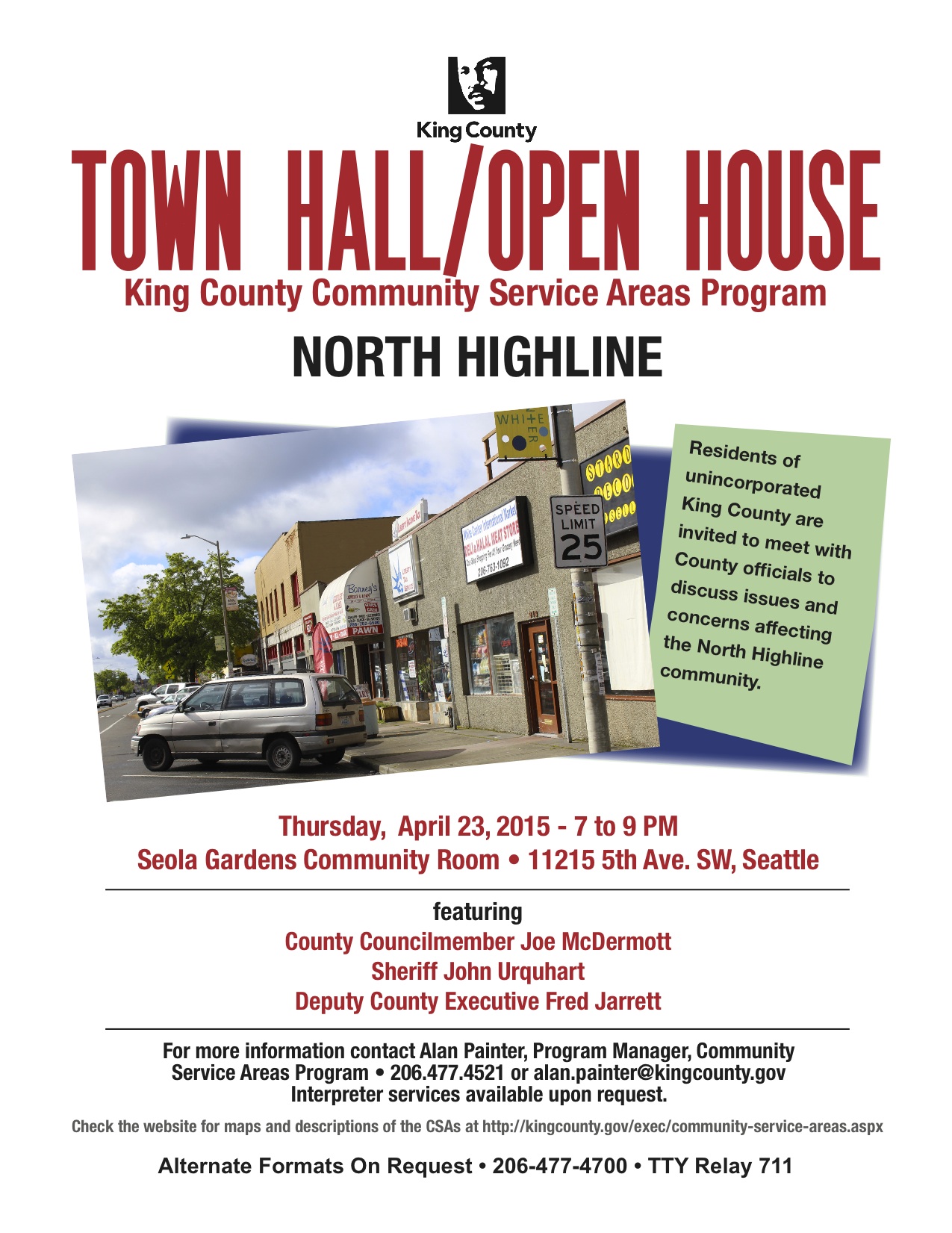 A new "work plan" will be available in time for the meeting, he said, in response to a question from NHUAC's Giba.
JUBILEE DAYS FUNDRAISER: Giba announced that the White Center Eagles are hosting one on April 25th, with a dance-a-thon starting at 3 pm and a prime-rib dinner/auction starting at 7 pm. There are also prize-drawing tickets being sold as a fundraiser.
Watch the NHUAC website for meeting schedules and hot topics – northhighlineuac.org.
You can follow any responses to this entry through the RSS 2.0 feed. Both comments and pings are currently closed.