If you see this White Center house on fire tomorrow – it's intentional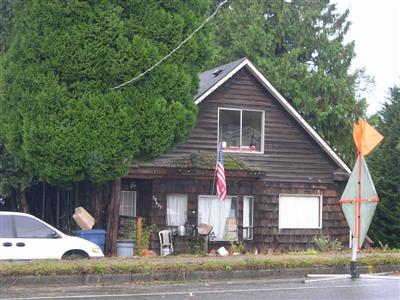 We received an alert this evening including word that the 97-year-old house in that King County Assessor's Office photo is about to be no more:
On March 19, 2015, the South King County Fire Training Consortium will be conducting live fire training at 10635 4 Ave. SW [map] between the hours of 7:00 am and 7:00 pm.

Live fire training is the carefully controlled burning of a specially prepared house that exposes firefighters to the conditions that they would find at an actual house fire. Firefighters practice extinguishing the fire, searching for victims, and clearing smoke out of the building.

Prior to the house being burned, all the oil-based materials including carpets, tar paper, and asphalt shingles are removed to reduce health risks and pollution.

Unfortunately, some smoke will be produced as the training is conducted. We recommend that people living in the area close their windows as a precaution. Those with respiratory sensitivity may want to consider being away from home during the training times.

There will be a temporary closure of 4 Ave. SW in both directions between SW 106 Street and SW 108 Street from 6:30 am until 7:30 pm. This closure will allow fire apparatus and personnel to move around the property safely. Detour signs will be posted and traffic rerouted. Homeowners on the closed section of street will be able to get in and out of their residences.

The South King County Fire Training Consortium is made up of eight fire departments and was created to allow firefighters from different departments to train together, using a common standard, and in a cost effective manner. The SCKFTC serves over 650 firefighters.
Metro also has sent an advisory that Route 131 will be rerouted for a while because of this.
You can follow any responses to this entry through the RSS 2.0 feed. Both comments and pings are currently closed.