Followup: White Center bike corral meeting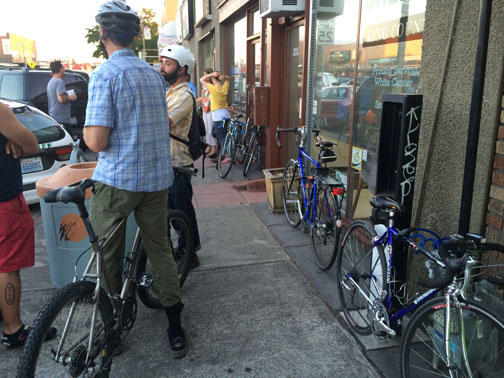 Bikes parked outside the King County Sheriff's Office White Center Storefront tonight hinted at what was happening inside – the community meeting about more bicycle parking in downtown WC.
Katie Meyer was there for WCN. She reports that it was a full house, at least 40 people.
She reports that bike parking stations in several locations were proposed as an alternative to the "bike corral" planned on the street in front of Proletariat Pizza and Caffé Delia, both of which support it. This alternative could result in even more bike parking than the corral, and it apparently still would qualify for the King County grant money that was planned for the corral. So a new plan will be crafted and discussed.
It also was noted during the meeting that concerns about the bike corral seemed tied to other local issues, so Elizabeth Gordon, co-proprietor of Uncle Mike's Barbecue and a North Highline Unincorporated Area Council member, urged everyone to attend NHUAC's next meeting on September 4th (7 pm, North Highline Fire District HQ), so those issues can be raised and addressed there.
You can follow any responses to this entry through the RSS 2.0 feed. Both comments and pings are currently closed.