Steve Cox Memorial Park gets a piano – for a while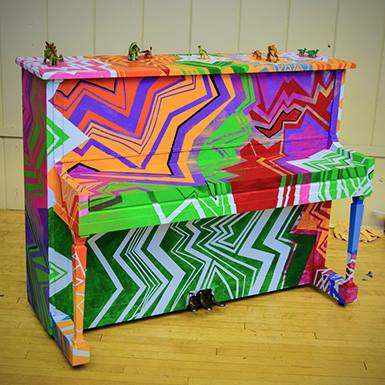 (The Steve Cox Park piano – photo courtesy Pianos in the Parks)
If you weren't already planning to spend part of your summer at county parks – a public/private-partnership plan announced today involving King County and Seattle public parks is meant to give you a reason to visit. It's called Pianos in the Parks, and it's placed 20 donated and decorated pianos in 20 King County and Seattle parks, for the next month. The parks, listed here, include Steve Cox Memorial Park here in White Center. Since it's a sizable park, we asked a Pianos in the Parks spokesperson where to find it. She replied, "The Steve Cox piano is roughly in the middle of the park by the picnic huts and the playground." (Above, that's the Steve Cox Memorial Park piano, decorated by artist Camille Coonrod, before it was placed in the park.) Yes, the pianos are playable; you can even record yourself playing one and enter a contest. The pianos also are being auctioned off; you can bid on any or all of them online by clicking any individual park photo here to see its piano.
You can follow any responses to this entry through the RSS 2.0 feed. Both comments and pings are currently closed.