Happy 6th anniversary, Full Tilt Ice Cream!
Full Tilt Ice Cream is six years old today – and White Center is still home, though they've opened other locations, partnered in other ventures, and distributed their popular ice cream in many a store. So there's a party tonight, and you're invited to stop by, including music from Rats in The Grass around 6 pm. See you there!
ADDED FRIDAY NIGHT: Chasing breaking news in West Seattle, we missed the party but got there in time to see Full Tilt founders Justin Cline and Ann Magyar (photographed with son Moss):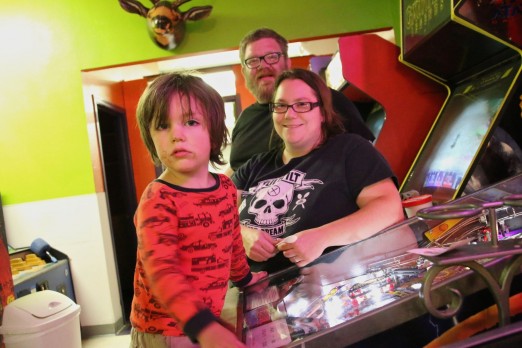 Asked for the latest Full Tilt news, Justin mentioned their soon-to-launch truck, which he says will spend a lot of time at Alki Beach this summer, and a deal that will double the number of grocery stores carrying Full Tilt pints. Right now, they're in about 60 stores, and they've been picked up for more than 60 QFC stores in Western Washington.
You can follow any responses to this entry through the RSS 2.0 feed. Both comments and pings are currently closed.