Update: Fire at business building on 14th SW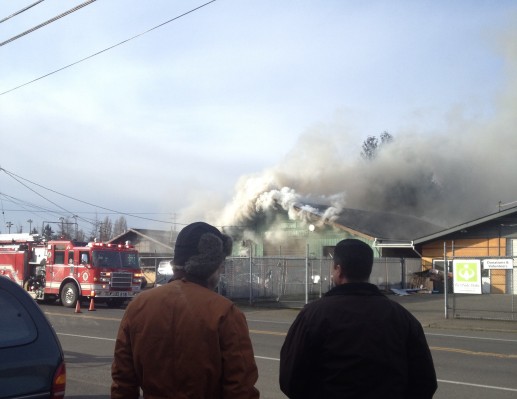 10:21 AM: Thanks to Amanda (who also shared the photo) and Nancy for the tip – North Highline fire units are in the 10000 block of 14th SW (map) at a business fire. Amanda identifies the business as White Center Blacksmith and Welding. We're on the way to find out more.
10:35 AM: WCN's Patrick Sand reports firefighters tell him at the scene that this WAS White Center Welding, but is currently vacant, and apparently a new tenant was getting ready to move in. Nobody hurt; the fire is out. This is next door to WestSide Baby's headquarters, and executive director Nancy Woodland says smoke from the fire got into their building, so they're dealing with the effects of that. No indication yet how this started; investigators will be working to figure that out.
11:01 AM: Do note that the public-safety turnout for this has 14th SW blocked at the scene.
12:13 PM UPDATE: From Woodland:
This morning there was a fire at about 10 am in the large building next to WestSide Baby's donations facility. One of our staff made the initial 911 call. It was significant and luckily, due to the very quick response of the North Highline Fire Department and with support from surrounding departments, the fire was under control within about 30 minutes. WestSide Baby's donation facility is closed today to assess the smoke damage. We also have to have all the doors open in the hopes of minimizing smoke impact on all of the clothes, diapers and equipment stored inside. It's REALLY cold so our staff is all huddled in our Administrative offices nearby. Phones and e-mails work.

The building next door was recently re-occupied by an auto repair business. They had only received keys last Friday. The fire investigators are here determining the cause.
14th SW, by the way, is open again.
You can follow any responses to this entry through the RSS 2.0 feed. Both comments and pings are currently closed.