107th SW site being pursued as home of new White Center Library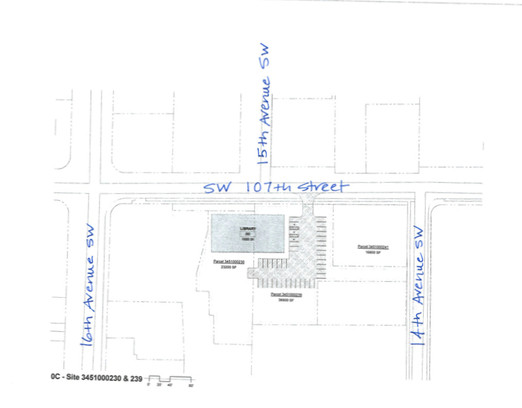 (Sketch of future library site, from KCLS Board briefing document)
A site on the south side of 107th between 14th and 16th is now the focus of the King County Library System's plan to build a new White Center branch. That's after a vote of the KCLS board last night – 4-0 with one member (Burien City Councilmember Lucy Krakowiak) abstaining. Here's how the briefing document for the board (see it here) described the site:
Site C consists of three parcels of land located at SW 107th Street and 14th Avenue SW. The site is currently owned by the Washington State Housing Finance Commission and was originally purchased by the Housing Commission for affordable housing under Washington State's Rapid Response Program (RRP), a loan program initiated by the State Legislature in 2008 for the preservation or development of affordable housing and community facilities. The Housing Commission had entered into a loan agreement with a partner for the development of affordable housing on this site but the partner was unable to obtain the necessary financing for construction and the deal fell apart. As a result the State has now taken steps to prepare to sell the parcel. Their asking price is $1.3M.

KCLS has been told by the Housing Commission that the library would qualify under the Rapid Response program for a long-term low or zero interest loan (30 years) with fully deferred payments for the life of the loan and no upfront cash other than closing costs. The site is slightly larger than what is needed for the library. The State would allow KCLS to purchase the remainder at fair market value so that KCLS could resell it, but there is even greater interest in finding a community service partner organization that could co-locate with KCLS and potentially qualify for the same favorable loan terms under the State program.
This was one of three sites KCLS was considering; the other two were both on 16th SW – the White Center Library's current site (plus an additional parcel the county would have to buy) and the former El Chalan/Ezell's/Wendy's restaurant site. The board's briefing document suggested there's some urgency to get this purchase moving, as the site's owner had another prospective buyer.
You can follow any responses to this entry through the RSS 2.0 feed. Both comments and pings are currently closed.