White Center Community Summit, one week from Saturday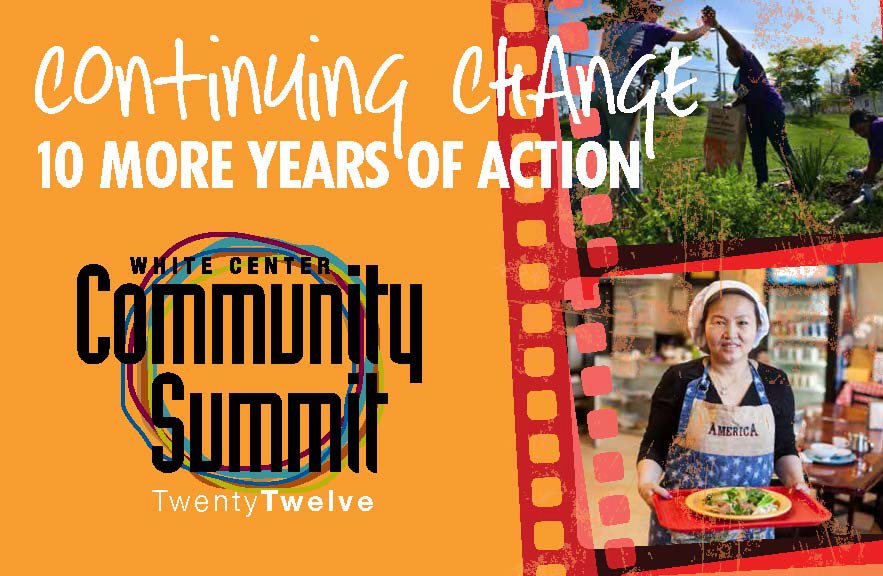 Save the date, one week from Saturday – December 8th. That's when the White Center Community Development Association hopes you'll join them for the WC Community Summit (but remember to sign up first!):
The 2012 White Center Community Summit will take place on Saturday, December 8 from 10am-2pm at White Center Heights Elementary. Organized by the White Center Community Development Association (CDA), this is a family event with workshops for youths and adults as well as free child care.

The theme for this year's summit is "Continuing Change … 10 More Years of Action," reflecting on the work that has been accomplished in the 10 years since the White Center CDA was founded and looking toward what can still be done in the future. All attendees will receive a free I Heart White Center t-shirt, lunch, and an opportunity to have family pictures taken by a professional photographer.

"The event is a great reflection of the community because it shows the diversity in languages and cultures that are present in White Center," says White Center CDA Community Builder Marquise Roberson. "It also shows that even though our neighborhood is filled with so much difference that there is commonality that transcends it in our concerns and well-being of the community that we live."

In addition to the entertainment during the event attendees will also receive lunch vouchers that can be redeemed at local White Center Businesses. As in years past there will be a resource center along with onsite interpreters and translated materials. Registration information can be found at wccda.org/home/wccda/2360

The mission of the White Center Community Development Association is to promote a vibrant neighborhood and high quality of life for White Center residents and stakeholders through the development of authentic leadership opportunities and community-led, neighborhood initiatives. This is accomplished through three lines of business: neighborhood revitalization, family development, and community building.

For more information please contact Marquise Roberson, Community Builder at (206) 694-1082 or Marquise@wccda.org.
You can follow any responses to this entry through the RSS 2.0 feed. Both comments and pings are currently closed.