White Center Halloween: Machinists Union District Lodge 751's candy donation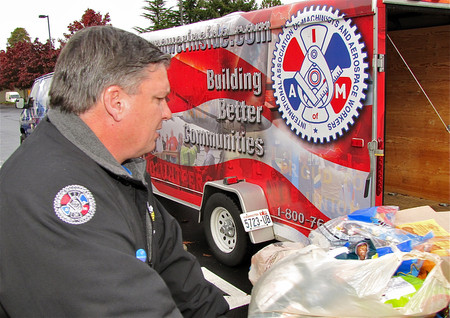 Sweet treats for some local kids, thanks to a regional union – here's the announcement:
Halloween will be a little bit sweeter for children in Seattle's White Center neighborhood, thanks to members of Machinists Union District Lodge 751.

Union members across Puget Sound collected more than 500 pounds of candy for the Salvation Army of White Center, to support its annual Halloween party.

"That much candy should get them through Halloween and their Christmas party too," said Ron Coen, the president of Machinists Union Local Lodge 751-C and one of the organizers of the union's annual candy drive.
District Lodge 751 represents about 33,000 people at 48 employers in three states, including ours. Last year, the union says, members of its Volunteer Program donated more than 10,000 hours of community service.
You can follow any responses to this entry through the RSS 2.0 feed. Both comments and pings are currently closed.