It's GiveBIG day – one-day donate-a-thon for participating nonprofits
Today's the day for the Seattle Foundation's one-day-only GiveBIG donate-a-thon. The foundation is offering a "stretch pool" of partial matching funds, to be distributed proportionately depending on how much each participating nonprofit raises on this single day, by 11:59 pm tonight. One BIG catch: You **must** donate through the nonprofit's special page on the foundation's website, NOT via the nonprofit's own website. So we have gone through the foundation's directory to find all those special pages for participating locally based or founded nonprofits (and a couple parent organizations). You can also use the special "go here" links below to find out more about any of these organizations – the links take you to pages on the Seattle Foundation website with background information and links to the organizations' own sites, as well as the donation links to use for this one-day event. (P.S. Please let us know if we missed a WC-based organization – post a comment!)
NEW FUTURES – go here
SAFEFUTURES YOUTH CENTER – go here
SOUTHWEST YOUTH AND FAMILY SERVICES – go here
TECHNOLOGY ACCESS FOUNDATION – go here
THE VILLAGE OF HOPE – go here
WESTSIDE BABY – go here
WHITE CENTER COMMUNITY DEVELOPMENT ASSOCIATION – go here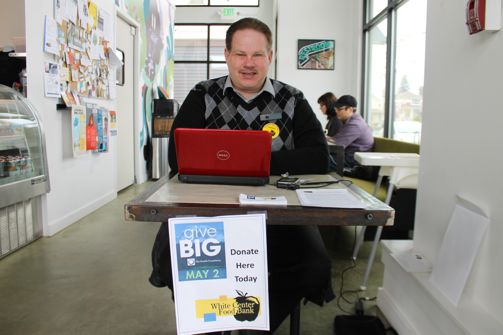 (Added 9 am – WCFB executive director Rick Jump at Dubsea)
WHITE CENTER FOOD BANK – go here – and note, WCFB has added events today, as previously reported here, including a portion of proceeds donated tonight if you dine at Proletariat Pizza or Zippy's Giant Burgers in WC.
YES FOUNDATION OF WHITE CENTER – go here
YMCA OF GREATER SEATTLE – go here
YWCA OF SEATTLE – go here
You can follow any responses to this entry through the RSS 2.0 feed. Both comments and pings are currently closed.