White Center Albertsons sold, to become Super Saver Foods; pharmacy's last day tomorrow
Ted e-mailed us this morning:
I received a notice in the mail yesterday from White Center Albertsons Sav-On Pharmacy saying that they were closing tomorrow, Feb 23, and my prescription records were being transferred to their Burien store. I heard that the grocery store was closing too. Do you know anything about it? Why are they closing? Is another grocery store going to take over the building. What's happening to the employees?
We've since talked to both an Albertsons corporate spokesperson – after going to the store and being told that only corporate HQ could comment – and an executive from the company that's buying the store, and here's what we have found out:
*The Albertsons on 16th SW has been sold to the locally based Saar's Market Place chain, according to Albertsons spokesperson Lilia Rodriguez. She told WCN by phone that the company continually evaluates stores, and this one was "not meeting its goals."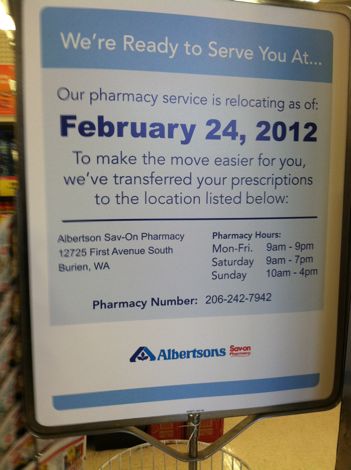 *The pharmacy's last day is indeed tomorrow – as per the sign in the store (photo above) – and prescriptions are being transferred to the Albertsons at 128th and 1st in Burien.
*Saar's, which takes over the store on March 22nd, does not plan to have a pharmacy in the store, corporate general manager John Hames told us by phone. It plans to rebrand the store as "Super Saver Foods" when it takes over on March 22nd, with remodeling work ensuing and a grand-opening celebration planned for May 2nd. He says the company plans to add "extensive Asian and Hispanic sections" along with other grocery basics.
*Rodriguez says the store has 50 employees ("associates") who will be affected by the closure. She says Saar's indicated they were all welcome to apply, and says some may be transferring within the company because all are union-represented and have "bumping rights."
Here's where else Saar's has stores.
You can follow any responses to this entry through the RSS 2.0 feed. Both comments and pings are currently closed.