Live at the North Highline Unincorporated Area Council meeting: Full house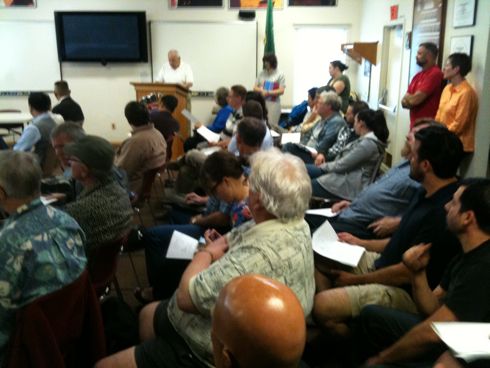 We're at the North Highline Fire District HQ in White Center for the full-house meeting of the North Highline Unincorporated Area Council. Among the items of major interest: the partners who say they plan to reopen what was Club Evo in downtown WC, as reported here on White Center Now recently. But there's a lot more to talk about; currently Dick Thurnau is talking about trouble at Hicks Lake; public comment included Rick Jump from White Center Food Bank announcing this year's Greenbridge barbecue on August 5th, as well as the upcoming Harvest Dinner/Auction for WC Food Bank. Lots of familiar faces in the audience, including local business leaders and King County Councilmember Joe McDermott. More to come. (We're rolling video on the entire meeting, and will post it here afterward, in case you can't get here to see what happens in person.)
7:20 PM: Two people in the public-comment section have voiced concern about the medical-marijuana businesses in downtown White Center; one mentioned live music at GAME Lounge, saying it seems to be "more than a medical facility." Burien city manager is now updating the council and audience, saying that Ambaum road work is done, with synchronized signals to come. Regarding annexation, he says crime stats will be brought to the Burien City Council on July 18th, including a comparison to what's happening in the city of Burien as well as the potential-annexation area itself. He also mentioned the study he has commissioned regarding the finances of annexation, and says that will be presented to the council "in about three weeks."
7:26 PM: For the crime update, KCSO says significant spike in residential burglaries though overall crime is down. "Right now there's very little information" on why, says the Sheriff's Office rep. "The typical MO has been, knock on the front door, getting no response, kick in that door or the back door." Assaults are also reported to be up, though it's described as typical for the start of summer. Asked about the medical-marijuana businesses, the KCSO rep says they're awaiting the state-law change later this month to see whether things "solidify."
7:39 PM: The crime discussion continues with audience questions. One man identifying himself as a White Center business owner says the crime in downtown WC is not going down, in his view. He discusses public intoxication – which KCSO reminds, is not a crime. The business owner wonders if the owners of White Center Plaza can be approached to cut down on the drinking that happens there. "We can make that effort," replies KCSO. Asked if there seems to be any chance White Center will get a storefront deputy back any time soon, the answer boils down to: Probably not. How did Skyway get it? By demonstrating the need, is the reply. And there's a lot of need, all over the county.
7:47 PM: Legislative updates now – starting with State Sen. Sharon Nelson. State Rep. Joe Fitzgibbon is here too. (7:57 pm) He is speaking about the potential $20 transit-fund-raising fee for license-plate tabs, and the possible Metro cuts if it doesn't become law, either through a vote of the County Council, or a vote of the people. He's also talking about the "tangled mess of laws around medical marijuana," particularly what happened once Governor Gregoire vetoed most of the legislation that passed in Olympia. He says fixing that will be "one of the top priorities … to clarify that situation" in the next Legislative session, since many communities are dealing with it.
8:13 PM: Alfredo Lopez, who owns the site once known as Club Evo, is speaking with his new business partner. Preceding them was a DDES employee who noted that the injunction that closed Evo is still in effect, as they wait to officially hear what the new business proposal is. (WCN's Deanie Schwarz, who interviewed the partners and broke the news of their plan, is here at the meeting as well and will be writing a full report on this angle, while your editor here is handling the general overview, as well as the videography.) Lopez acknowledges he "made a mistake" by allowing "another promoter" to come in and handle Friday nights with hip-hop shows that he said "attracted problems." He says his new partner Danny Yarbrough will be the "operating partner" and lives in West Seattle.
8:43 PM: Still discussing ex-Club Evo/future nightclub. NHUAC president Barbara Dobkin has basically said Lopez talks a good game but has said it all before. NHUAC member Christine Waldman is reciting notes from past White Center/South Delridge Community Safety Coalition meetings at which Evo(lucion) came up.
9:20 PM: The Club Evo discussion, tense at times, finally ended around 9:15 pm. (Again, full, separate story coming up; we'll add video after returning back to HQ.) President Dobkin now says the County Council is taking up its Unincorporated Area Councils bill next Monday – and the life of NHUAC is at stake. She says this meeting, with about 50 in attendance and a hot issue to discuss, is testament to the value of the council.
You can follow any responses to this entry through the RSS 2.0 feed. Both comments and pings are currently closed.