Strength of Place Village: Applications to be taken; community tour planned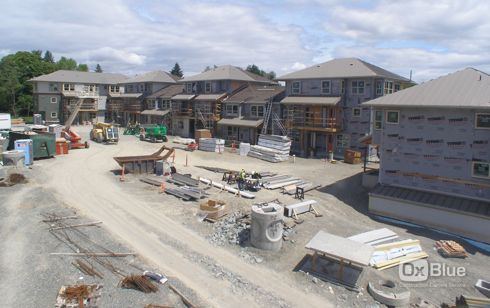 (Thursday image from construction webcam at Strength of Place Village)
Updates from Kate Gill de la Garza at Capitol Hill Housing, which is a partner in building Strength of Place Village in White Center: They're about to start taking applications for people to move into the low-income housing development at 14th and 100th, and there also will be a community tour for anyone interested in taking a look as it gets closer to completion. Here are those two announcements.
Submit an application
Sit down with a Quantum Management representative to fill out an application for housing & ask questions!
Date: Wednesday, July 6, 2011
Location: YWCA Learning Center at Greenbridge
Address: 9720 8th Avenue SW
Time: 3 pm-7 pm
For that event ONLY, child care, light refreshments and interpretation in Spanish, Vietnamese & Somali will be available, according to the announcement. Also, you can find a housing application by going to this page on the White Center Community Development Association site or picking one up at WCCDA HQ at 1615 SW Cambridge. Meantime, here's the tour announcement:
Community Tour
Come and see what quality affordable housing looks like!
This tour is open to all!
Date: Wednesday, July 13, 2011
Location: Intersection of 14th Avenue SW & SW 100th Street
Time: 4 pm-6 pm
You can check in on the construction via the site webcam – see it here.
You can follow any responses to this entry through the RSS 2.0 feed. Both comments and pings are currently closed.