Volunteers brighten up prominent White Center corner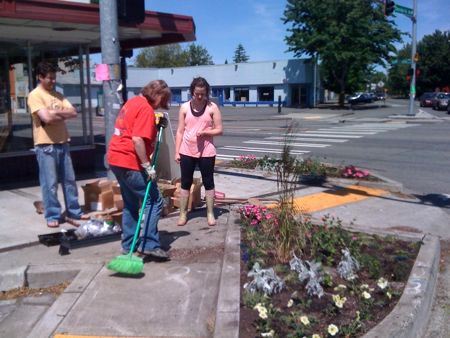 (Photo courtesy White Center Community Development Association, used with permission)
Next time you're at 16th and Roxbury, take a close look and appreciate the freshened-up planting areas! Nhan Nguyen of the White Center Community Development Association shared the news today that a small group went out on Sunday to beautify the corner. He says that nearby Pho Lynna and Decoraciones Ely have " volunteered to take care of regular watering." The planting, according to Nhan, was led by Erika and Clark from Community Harvest of Southwest Seattle and WCCDA member Judy.
Want to be part of an occasional "mini-cleanup" in the business district? WCCDA would love to hear from you – and Nhan says they'll supply the trash bags, trash pickers, and gloves!
You can follow any responses to this entry through the RSS 2.0 feed. Both comments and pings are currently closed.