White Center's former Club Evo: New partnership, business model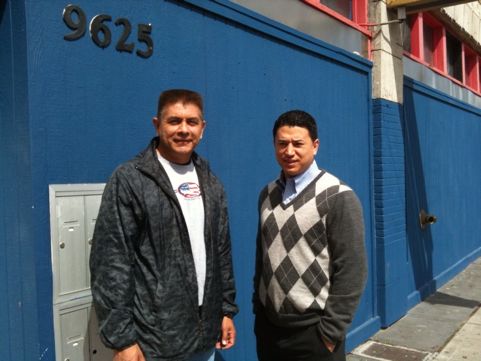 By Deanie Schwarz
Reporting for White Center Now
Alfred Lopez, owner of 9625 16th SW and the now-dissolved entity that did business there as Club Evolucion, has confirmed to WCN that he has a new plan for the space.
He confirms that he has entered into a formal, as-yet-unnamed and unincorporated partnership with Danny Yarbrough (at right, above, with Lopez at left; he's owner of Citrus) that will develop the former Club Evo space into a Latin "banda" entertainment venue (for 18 and over) and eventual restaurant and lounge.
The partners finalized their agreement this past week and spoke to WCN about the development of the property, which was placed under a permanent injunction through the King County Prosecuting Attorney's Office Civil Division in May. The partners have begun in earnest, having already met with DDES, contacted the city of Burien Police and Sgt. Rodney Chinnick, the head of the KCSO's Gang Unit, as well as contacting the Police Guild about off-duty deputy security coverage.
"We will make sure we get all of the proper licenses and permits before we do anything. We had a meeting with DDES about what we need to do. The first step is the sprinklers and Fire Department inspections. Then the public entertainment and public dance permits and the state of Washington master business license," Yarbrough explains.
The partners also spoke of in-the-near future plans for outreach to various community organizations to (re-)introduce themselves and their proposed business model. They're looking at the North Highline Unincorporated Area Council, the White Center Community Development Association, the White Center Chamber of Commerce and the newer White Center Business Owners of Sustainable Support mixer group.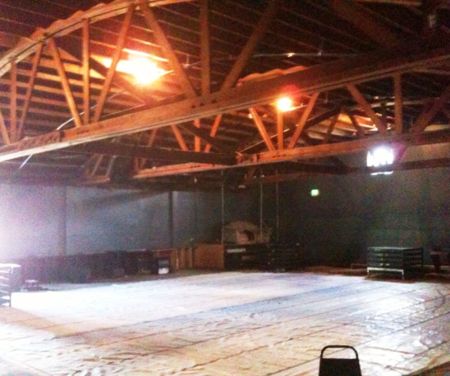 The club was shut down for noncompliance last year and soon after, the property went into foreclosure proceedings. But, the property was not put up for sale as a foreclosure, says Lopez, because he found a group of investors to assist in paying off the 10-year note to the previous owner.
Lopez is very clear to state that the first compliance task is to meet the requirements of the injunction before any business of any kind is to operate at the space in the heart of the revitalizing White Center business district. Those requirements will include any and all of the proper county and state licenses, but in order to apply for licenses, the site's sprinkler system must be given occupancy approval by the North Highline Fire District fire marshal.
The sprinkler system installation was completed in November 2010 by an approved contractor; however, a completely new and separate water line and meter needs to be approved and installed by Seattle Public Utilities. The Fire Department ordered specific work to be done such as closing up exposed walls and will not be back till the meter and water lines are installed and approved to inspect the sprinkler system.
King County has approved the sprinkler plans on paper and Lopez believes the County will be forwarding them shortly to SPU. If and when SPU approves the plans, the meter installation will be scheduled six to eight weeks out, depending on the backlog of work.
The problematic history of the former Club Evo goes back a number of years and Lopez says emphatically and repeatedly that the space will never be like the former Club Evo again. Once all compliance work has been met and all appropriate licenses have been approved, they intend to open one night a week – Saturdays – as an 18-and-older dance venue with live "banda" music – Mexican country music — Yarbrough says, with salsa and meringue dancing. They plan on operating about four to six months with this schedule to generate initial revenue as they design the 16th Ave facing side of the property for a restaurant/lounge. That work will require major remodeling, including the installation of a kitchen and hood. They say they will not be serving alcohol on the premises during this period.
Lopez is living with his two teenage sons in the upstairs apartments while he finalizes the partnership agreement and oversees the remodeling and compliance work. He is licensed to practice law in the state of Washington, mostly occasional personal-injury cases for friends, he says, but lives most of the time in Southern California. He said that he plans on being in White Center as much as possible as this new business model is undertaken. "I want nothing to do with the old Club Evo. Believe me, " he said. As if to make his point, he went outside the building and removed the old exterior signage as our interview concluded.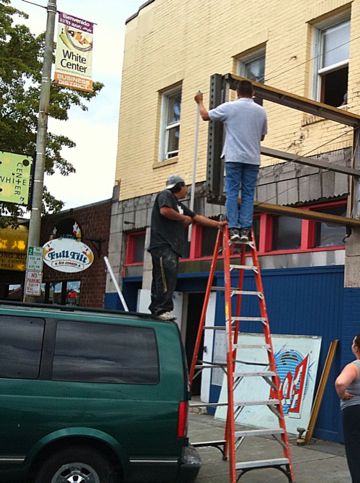 A new coat of paint was put on a few days later.
After the sprinkler system and meter are approved, the next phase of the partnership will be the design work with new partner Yarbrough who, in addition to being involved with Exposure, a promotions company, owned a Belltown restaurant prior to selling it and purchasing the former TGIF site on Lake Union to develop Citrus development in 2010. Yarbrough also worked for Consolidated Restaurants (Metropolitan Grill, Union Square Grill and Elliott's Oyster House) as a bookkeeper after college, as well as a bartender and assistant manager. He also worked in real estate during the boom market in Seattle and began to "flip" commercial properties soon after.
Lopez told us, "We want to eliminate any problems we had before, the biggest prior one being a hip-hop crowd on Friday nights."
"This will be a salsa and meringue crowd – cowboy boots and hats and Mexican country music," Yarbrough added.
"We will be eliminating any issues we had before with minors. And the most important measure, aside from having off-duty officers on site both inside and out, is that a strict dress code will be enforced," said Lopez. "I forbid gang-related attire."
"If they don't come dressed appropriately and are unwilling to undergo a full-body pat down, they will be asked to leave and maybe come back another time," said Yarbrough, who says he will be acting on site as Operating Manager. He will also be hiring civilian security staff.
They discussed plans for eventually multi-purposing the large dance hall section for rentals, for quinceañeras or graduations, bar mitzvahs or community events and the like once compliance has been achieved and the restaurant has been built out. The dance area will have new flooring and a stage installed, as well as a new lighting system. The hoped-for eventual design phase will include menu development and extensive reworking of the 16th Ave. SW. side of the property to include new bathrooms, kitchen and lounge area.
If everything goes as they have planned, they hope to be open in two months.
You can follow any responses to this entry through the RSS 2.0 feed. Both comments and pings are currently closed.