New food truck in White Center: Sarap Café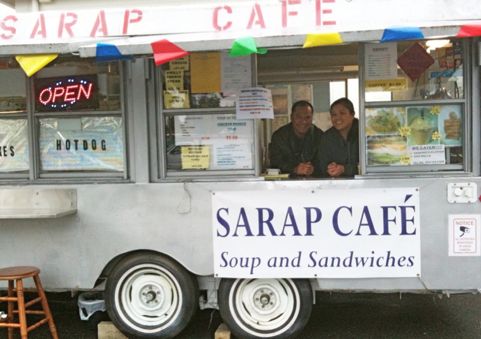 Story and photo by Deanie Schwarz
Reporting for White Center Now
"Sarap" is Tagalog (the national language of the Philippines) for delicious! Formerly located at Pratt Fine Arts in the Central District of Seattle, Sarap Café partners Vic Arao and Vilma Vere are now serving a few Filipino favorites including sotanghon – a chicken noodle soup – and lumpia.
"But we are in America, so we want to serve other things too," says Vilma. They offer milk shakes, hot dogs, and a variety of cold-cut-meats sandwiches and nachos. A sandwich platter is available for catering.
The truck opened this week and is permanently stationed in the Chevron gas station at 16th SW and 100th SW. It's open 11 am-6 pm Mondays-Saturdays, (253) 709-2429.
You can follow any responses to this entry through the RSS 2.0 feed. Both comments and pings are currently closed.