B & D Aquarium: White Center fish store forced to move – but where?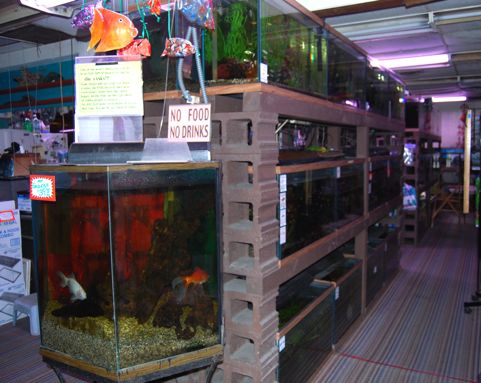 Story and photos by Deanie Schwarz
Reporting for White Center Now
Got someplace a business owner can move $25,000 worth of fish, fast?
Bruce Donahue, owner of B & D Aquarium at 10402 16th SW, has been selling live fish and tank equipment for 18 years in White Center. Like most businesses during this economy, things are slower, but he has been holding steady and been able to retain his two almost-full-time employees and pay his bills.
Now, though, he's dealing with a crisis. Donahue's landlord, Tony Califano – who Donahue describes as "great" — delivered final notice that he must be out of the store this week because the property is going into foreclosure.
B & D Aquarium rents the space they've occupied, but they've maintained it all of these years as if it had been their own property. "We never bothered the landlord. We fixed everything ourselves," Donahue told WCN.
He is uncertain whether there is a new owner or not, but for him it doesn't matter as he has been told to vacate by the landlord. He says he found a Notice of Foreclosure on the door in April, warning that if payment from the landlord wasn't received by June 8, the building would be put up for sale at auction. Donahue hoped a sale would be arranged and that the aquarium shop's uniquely complicated inventory was being explained to potential buyers so Donahue could remain as a renter. As of last week, the hope of remaining in the space vanished. He now is desperately seeking a new space in the White Center, West Seattle or Burien areas.
B & D Aquarium has a 40-year history in southwest Seattle. Donahue says the shop was located next to the old Fred Meyer on Roxbury for a dozen=plus years and before that, next to the old Arctic Circle at 35th and Roxbury. He's been selling for nearly 50 years, and many of his West Seattle and White Center customers go back three generations.
Moving an inventory of more than 200 tanks with thousands of live fish is no simple process. In order to migrate the fish out of the current location in plastic bags, tanks have to be set up, acclimated and ready to receive them in a new shop that has been specially wired and piped for the equipment.
He and his employees have begun packing up as much as they can, but the live stock is problematic until they secure a new location. His inventory value exceeds $25,000 and is in jeopardy. Somehow, he must find a site, negotiate the costs, take measurements, wire and pipe it and set up the tanks; and all of this while trying to conduct business at the old location to keep revenue rolling in, all while honoring the June 8 deadline (Wednesday).
"I've been out of touch with the rental market for 18 years," he said. "I've looked at a few places. My employees, friends and customers have been looking too." But Donahue has not found one that fits his site requirements or his budget. "The rental prices in White Center I've found are ridiculous! Things have changed. I am currently paying about $1,000 per month. I'd like to find something near that, or less, " he said. He says he needs between 1,500 – 2,000 square feet. "But I know I might not find what I want."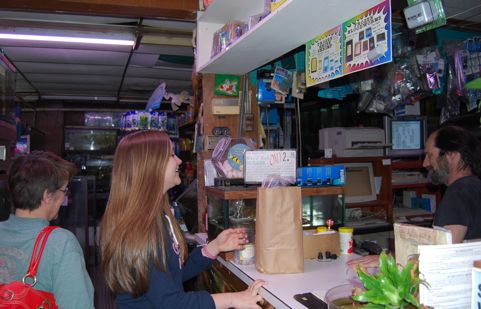 (Steev Ward, an employee for 18 years, enjoys a good conversation with a couple of longtime customers)
You can follow any responses to this entry through the RSS 2.0 feed. Both comments and pings are currently closed.