White Center restaurant news: Happy anniversary, Proletariat Pizza!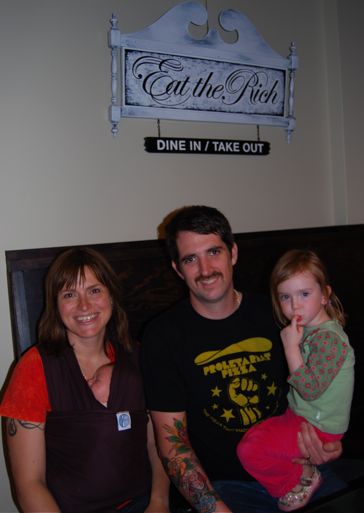 Story and photos by Deanie Schwarz
Reporting for White Center Now
If you were in White Center Saturday night for the monthly WC Art Walk, perhaps you joined the families, friends, and dating couples who filled the art-filled Proletariat Pizza on its one-year anniversary.
In a kind of homecoming, Shawn Wolfe's work (he's the artist who did Proletariat's bold exterior signage) hung on the tall walls of the packed pizzeria. Highland Park residents and Prole owners Stefanie and Mike Albaeck graciously took a few minutes out of their jammin' dinner hour to update us (and you) on their first year in the WC.
Mike telecommutes from home full-time for a popular cell provider and is often seen commuting the mile or so from the couple's Highland Park home on his bike to 9622-A 16th SW (across the street from Full Tilt Ice Cream and next door to Dzul Tattoo, if somehow you haven't made it to Proletariat Pizza yet).
Stef is devoting her spare time – if there is such a thing when you run a restaurant and have two young children – to the kids. Both are hands-on in the restaurant, of course, but now have a staff keeping the standards of quality and customer service high while creating a know-you-by name, community-friendly vibe.
Despite having just one year on the books, the Albaecks have catapulted themselves onto the regional stage with their artisanal, thin-crusted pizza. When Kathryn Robinson, the grande dame of Seattle culinary culture and restaurant critic writes, serious restaurateurs and foodies listen. She recently visited Proletariat and spoke in as glowing terms (read it here) about Proletariat's elegant interpretation of pizza as any pizza restaurant could hope for.
Along with that approving nod, neighborhood word-of-mouth recommendations, more than 600 Facebook "fans," and other reviews have all identified various elements of the critical-to-success X-factors of artisanal pizza Prole-style. Folks rave about the perfectly bubbled crust, the impeccably fresh and organic ingredients ("Except for the Spam!") and the consistent quality of the fresh dough. (The momentum has Proletariat Pizza nominated for the Best of Western WA competition for Best Pizza.)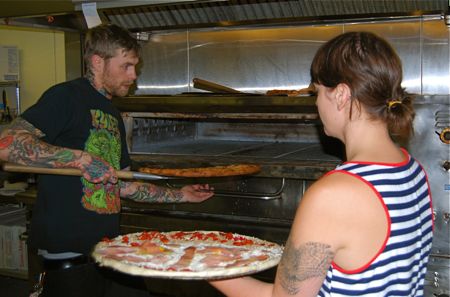 Looking back at Year One – the original one-slot oven used during the pizzeria's first week proved far too slow and small. So they found a refurbished oven with four slots which can hold up to five pies on each shelf when necessary.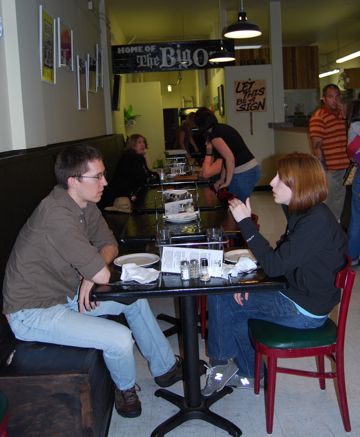 According to Stef, date-night couples are well-represented in their customer base, as are families. They tend to arrive after 7 pm and are becoming as loyal to Prole as the larger groups, often taking advantage of the Weekly Specials. The organic, fresh, local seasonal offerings have included pesto, potato and other creations, and right now, zucchini is on the lineup. So what's the most popular? No one pizza stands out, we're told, but the prosciutto and organic-soft-egg pizza (Ham & Egg) and The Favorite are mentioned. As for dessert, the light, cakey tiramisu is a hit.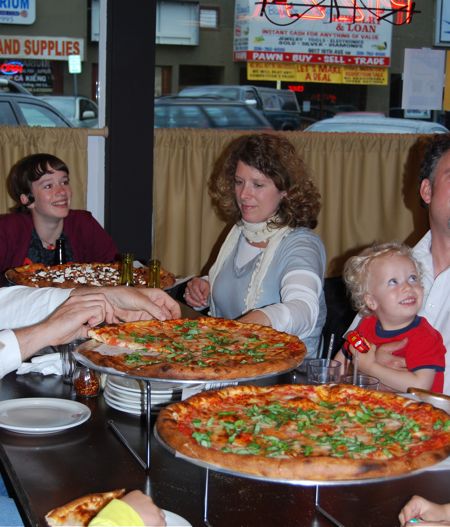 Family groups dining at Proletariat can take advantage of a play area in the rear of the space; kids, including Stef and Mike's newborn son Hollis and daughter Hazel, are encouraged to enjoy the full space of what is becoming, as Kathryn Robinson put it, part of "the soul" of White Center.
Like many other WC owners, Stef is passionate about the neighborhood in which they are conducting their business. She insists she would open five other businesses there if she could. She is bursting with ideas, but says, "[New business owners] can make whatever they want of this neighborhood. You really don't have to do much to be successful, because the neighborhood is starved for something new, productive, positive or what feels good. " She thinks a yoga studio in a former dance studio currently available a few doors down would be fabulous. "The community is willing to accept your shortcomings because they are just so glad you are here. It is a slam-dunk [business wise]."
She suggested that anybody who is interested in starting a business carefully consider the WC's incredibly affordable rents. "The sky is the limit, as far as potential in this neighborhood," Stef reiterates. "[Cheap rent] makes it a feasible risk for anybody to take. What have they got to lose? It is easy to make rent here…our space is only $1 a square foot! That's unheard of in any other neighborhood. When the rent is that low, what do you have to lose?"
In looking at the year they have been working hard to build their business, Stef and Mike are most surprised that they become so successful so quickly. "We had really high hopes, but this has been so, dare I say, easy, because people are so amazingly forgiving. For example, when we have forgotten somebody's order on a really rough night, they tell us 'Oh, that's OK! We are just glad we are here!" The community is so grateful and so supportive. They will forgive anything. And [the support] just continues to happen and make [us] continually happy."
This remarkable first year has given rise to a new T-shirt design from Shawn, now available in the store. The t-shirts remain $15 and a new American Apparel hoodie is available for $25.
As for the aforementioned weekly specials – they're mentioned on Proletariat's Facebook page, as are the flexible closing hours; fall evenings are getting darker earlier, so they will close at 9:00 some evenings. But, as Stef says, they are always willing to stay open till 10, if that's what folks want. You can also catch them on Twitter.
One note – the store will be closed tomorrow (Monday, September 20) – Stef and Mike are taking their hard-working crew out to celebrate their memorable first year.
Tags: Proletariat Pizza
You can follow any responses to this entry through the RSS 2.0 feed. Both comments and pings are currently closed.