If you ever think 'one person can't really make a difference' …
In our coverage of the last White Center/South Delridge Community Safety Coalition meeting last month, we noted a trash problem outside the DSHS building, where the meetings are held these days. One meeting regular, who wanted to be anonymous, had expressed frustration with the problem, and had started documenting it: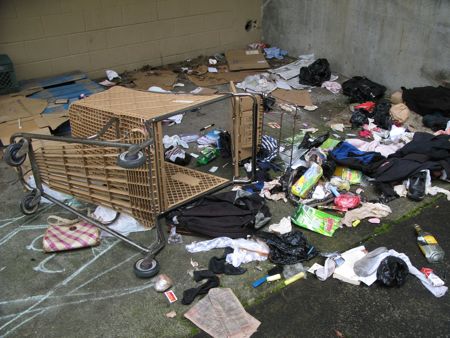 Here's a wider look at one area where trash was found, on the east side of the building, :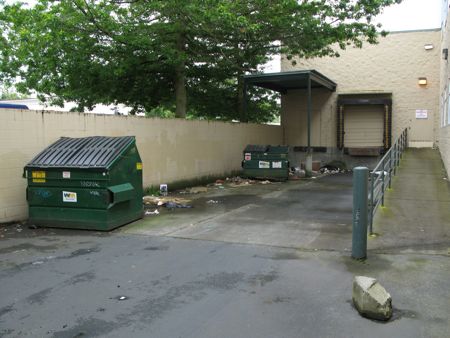 Once documented, it was time for action. The observer tried contacting someone in person, but was given a name, number and e-mail address for an office manager who finally was reached by phone the next day. After hearing about the problem, the observer says, the office manager said it was the problem of Prium Development Company, which owns the building, and is headquartered in Tacoma. Somebody in the building should be telling them about it, the observer insisted, and was told those in the building weren't happy about it either, but that they expected the company to be sending a cleaning crew that day.
"Partial cleanup" ensued, according to our source. But not the dock area. If you're thinking, well, so what, it's just trash – as our source notes, it wasn't just stray bits of paper. Examples of what was found: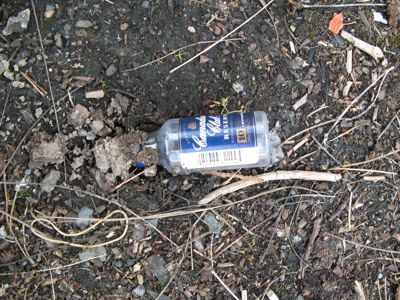 So, the observer called the office manager again. Got only voice mail. Same thing the next morning, when our source tried yet again. No callback, so the next call was to the building owner. Our source was directed eventually to voice mail for a "facilities manager." No callback. Eventually, contact was made. The onsite manager, our source says, continued to contend that it was the building owner's responsibility, and that they'd been making requests too. However it played out, finally, after persistence from our tipster, the area got cleaned up: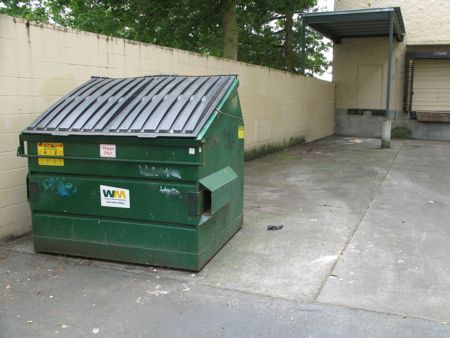 Still tagged (we've blurred the tags as per our policy), but as our tipster puts it, "the public health menace is gone." Will it stay gone? We'll check back. We suspect the observer will too. If there's something you're concerned about, one message here is, don't give up after one complaint, if action doesn't immediately ensue. And find out who's ultimately responsible. One helpful tool: Property ownership can be determined through the King County Parcel Viewer – you'll find it here; have the exact address handy (or if you don't know, trace it through the nearest intersection).
You can follow any responses to this entry through the RSS 2.0 feed. Both comments and pings are currently closed.