King County Fire Marshal posts Evo as "DO NOT OCCUPY"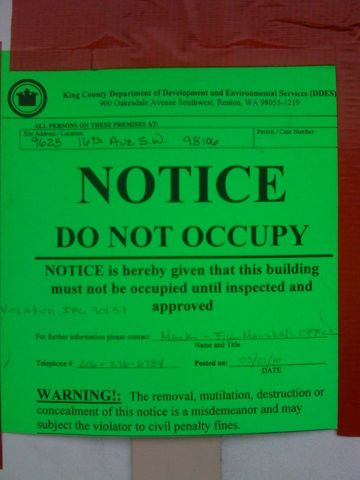 Thanks to Stefanie at White Center's celebrated Proletariat Pizza for the tip and the photo – The King County Fire Marshal posted that big green DO NOT OCCUPY notice at Evo, formerly Evolucion, today. We got word of this after 4:30 pm and tried half a dozen different county offices – all of which had already shut down, in most cases with the voice mail saying to call back Tuesday (or later). However, as noted earlier, tonight happens to be the White Center/South Delridge Community Safety Coalition meeting, at which the former Evolucion has been a topic of discussion many a time, so we hope to find out more within a few hours. (The notice mentions a violation of the International Fire Code, but we're having trouble finding the section it appears to cross-reference.) 7:13 PM UPDATE: 1st word from the meeting is that the violation reportedly involves sprinklers that aren't hooked up, while alleged occupancy violations remain under investigation.
Tags: Evo, fire safety
You can follow any responses to this entry through the RSS 2.0 feed. Both comments and pings are currently closed.