Next up at Dubsea Coffee/Artspace – ASARO!
One week from this Saturday …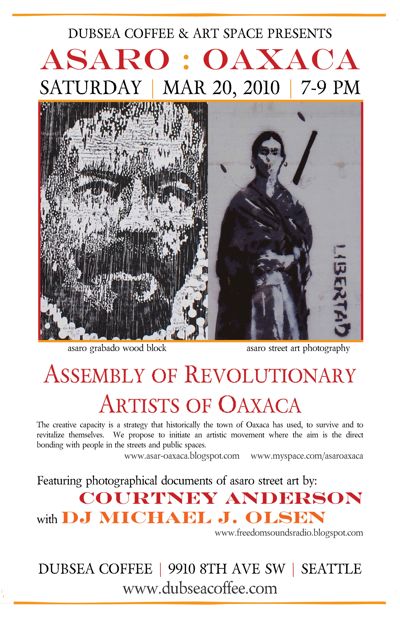 The announcement accompanying the flyer:
Dubsea Coffee
March 20 2010
7-9 pm
9910 8th Ave. SW

www.dubseacoffee.com
www.myspace.com/asaroaxaca
www.asar-oaxaca.blogspot.com

ASARO " The Assembly of Revolutionary Artists of Oaxaca " is a collective of about 20 members who specialize in a variety of artistic communications, including stenciling, grabados ,murals , engraving , theater and fine arts.The collective was formed in 2006 in response to a call fromAPPO " Popular Assembly of the Peoples of Oaxaca ",[ a group formed as a teachers union, but whose makeup also includes general citizens and representatives from surrounding communities ] during their occupation of Oaxaca City . APPO made a call to artists of Oaxaca to discuss the possible responses to the violence and oppressive actions from the police and military during their public demonstrations. Ever since ASARO has been partaking in one of the most prolific visual Resistance projects in the state of Oaxaca. ASARO believes that public art in all it's diverse disciplines is a form of communication that allows a dialogue with all sectors of society and which makes possible the visualization of the real conditions of existence.ASARO states" We summon all the artists who authentically look for the social transformation to be united to ASARO, to extend our creative front of resistance and to approach the art in all the sectors of society. The creative capacity is a strategy that historically the city of Oaxaca has used, to survive and to revitalize themselves… We propose to initiate an artistic movement, where the aim is the direct bonding with people in the streets and in public spaces.
Tags: art, ASARO, Dubsea Coffee, Oaxaca
You can follow any responses to this entry through the RSS 2.0 feed. Both comments and pings are currently closed.