Annexation to Seattle? One city councilmember is still interested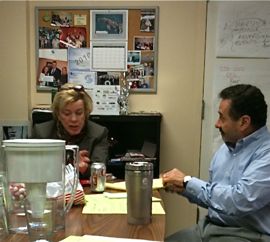 The topic of White Center annexation came up when we covered a brownbag lunch meeting with Seattle City Councilmember Jean Godden at the West Seattle Chamber of Commerce offices today. WS business lawyer Jerome O. Cohen (at left with Godden) opened the subject by nothing that the WS Chamber, where he leads the board of directors, is trying to build stronger ties with White Center. Godden described WC as a "lively area" and mentioned a recent visit to Salvadorean Bakery. She then recalled last year's vote in which a majority of councilmembers voted not to approve the Memorandum of Understanding that had been worked out by then-Mayor Greg Nickels as well as other parties interested in the area, giving Seattle a certain period for first right of refusal on White Center annexation. "I don't often brag about the 8-1 votes where I'm the 1 – and there are few," she said, indicating that one, in which she supported approving the MOU, was different – she believes her fellow councilmembers were trying to send a message, but not the one that she thinks the rest of the world drew from what happened. She says it's up to new Mayor Mike McGinn, as well as the people of White Center, to indicate they would like to talk about annexation, but notes the legislation is still in effect with the tax changes Seattle wanted and needed for annexation to be possible. One sticking point right now, she indicated, is the South Park Bridge – if Seattle annexed all the unincorporated area to its immediate south, the bridge would become the city's $110 million problem. But federal help might be on the way, she noted. (She is vice chair of the council's Transportation Committee, now chaired by West Seattle's Tom Rasmussen.) Overall, she said, White Center "seems like something that ought to be part of the city" – provided its residents agree.
Tags: Annexation, Jean Godden, seattle
You can follow any responses to this entry through the RSS 2.0 feed. Both comments and pings are currently closed.