Proletariat Pizza update: Busy first night
(photo added 11:02 pm – Stefanie and Mike, Proletariat proprietors, and daughter)
We checked in with Stefanie and Mike at Proletariat Pizza just before 8 pm, three-fourths of the way into the first night of the new pizza parlor on 16th SW (next to Dzul Tattoo, across from Full Tilt Ice Cream). Stefanie told us they had a great rush in the early hours – then it settled down a bit – there was still a nice crowd when we dropped by. The atmosphere is very simple; some fun handmade signs (like "Home of The Big One") up on the walls:
The signs look aged but Stefanie said they're new, made by an artist friend. While their name has drawn a bit of controversy, their signage plays right to it – one door says BY THE PEOPLE and the other door says FOR THE PEOPLE: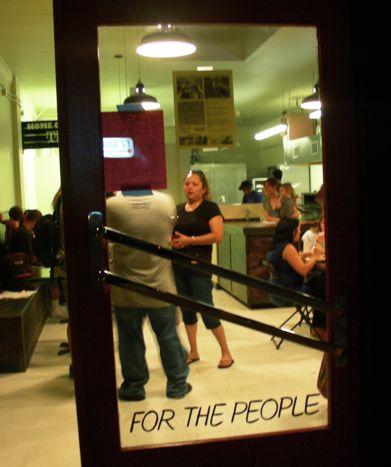 Their menu has a logo of a "power to the people" type fist tossing a pizza, over the slogan "The Pizza That Made White Center Famous." We'll add photos in a bit; we brought home a menu and thought you'd be interested:
Pizzas
Cheese
Pepperoni
Margherita
Two Meats
The Favorite (Italian sausage, fresh chopped garlic, Mama Lil's peppers are the toppings)
Ham and egg
Anchovy
The Real Hawaiian (SPAM and pineapple)
Cinco (fontina, provolone, asiago, gorgonzola, mozzarella cheeses)
Vegetarian (sundried tomatoes, kalamata olives, goat cheese plus mozzarella)
They offer pizza in "whole, half, slice" sizes — slices for cheese/pepperoni only ($2 and $3 respectively) with the most expensive "whole" $18 (cheese only, $15 whole, $9 half). Also a mixed green salad at $4 -organic mixed greens with garbanzos, kalamatas, gorgonzola and balsamic vinaigrette. Homemade tiramisu for dessert ($5) and two sugar-only sodas (Mexican Coke/Jarritos, $1.50) plus beer/wine for beverages.
For starters they'll be open 5-9 pm Mondays, Tuesdays, Wednesdays, Fridays, Saturdays, closed Thursdays and Sundays.
Tags: Proletariat Pizza
You can follow any responses to this entry through the RSS 2.0 feed. Both comments and pings are currently closed.