North Highline Unincorporated Area Council report #2: Evergreen Pool, and more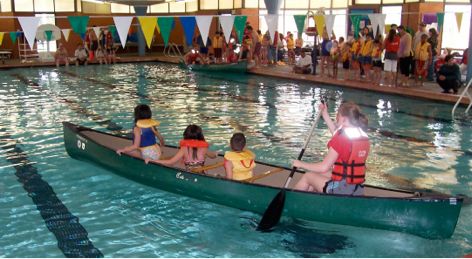 Big agenda at Thursday night's North Highline Unincorporated Area Council meeting. We recapped the crime update earlier today; now, the topic that took up the largest portion of the NHUAC meeting – the future of Evergreen Pool, the county's only 9-lane indoor pool.
After months in which the pool's prospects of survival seemed iffy at best – and right now, it's still facing closure at the end of the month if nothing changes — a plan to keep it open has surfaced: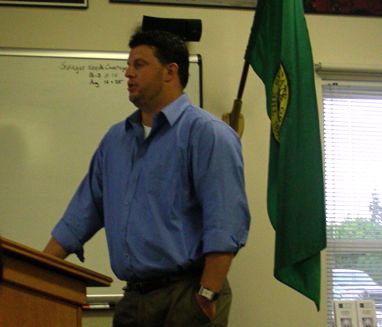 That's Joel Schweiger, head coach of the WhiteWater Aquatics swimming organization, which includes almost 100 area swimmers. He opened his presentation by recapping the group's seven-year history, leading up to its status now with workouts five days a week, 48 weeks a year at Evergreen Pool. He says "other summer league pools" are involved with WhiteWater too, including Arbor Heights. Swimmers' parents run the non-profit organization "through an elected board of directors."
He didn't get into the numbers that the group has crunched, but briefly showed that they expect revenue from swim-lesson programs, teams, and event rentals to provide the operating budget, from which they would handle pool maintenance as well as operations.
According to Schweiger, staff cuts would be necessary – he says they believe that's a big part of the pool's current budget problem, so "restructuring staffing to appropriate levels" would be necessary: "Staffing costs are one of the things pulling the pool down." He said lifeguards and instructors would make more, but not managers.
But long operating hours would still be possible, he said – 5 am to 9 pm Mondays-Fridays, 8 am to 3 or 4 pm on Saturdays, and a "smaller scale" on Sundays, plus he promised more commitment to public-swim and free-swim hours.
If the WhiteWater Aquatics plan goes through, he says, the pool would still close temporarily at the end of this month, for maintenance work including federally mandated safety upgrades on the drain system, then they'd aim to reopen it and "begin programming in October."
WhiteWater came before NHUAC members seeking a letter of support for their efforts to take over the pool. It wasn't a slam dunk; several members questioned him sharply regarding how they would ensure public involvement on the board, not just the team-involved parents who he had said are part of it now. And community member Rachael Levine told the council she and other people concerned about the pool didn't want them to commit support to WhiteWater before others had a chance to come forward; eventually it was pointed out that meetings about the pool's potential closure had been under way for months, and if no one else had come forward so far, who's to say they would now?
Levine's concerns also included making sure of a commitment to "wider community use" of the pool, and determining that the business plan was sound enough that the pool wouldn't be back under threat of closure in a year or so.
Questioned further by board members including chair Greg Duff and Heidi Johnson, Schweiger said the pool would remain open to school groups, therapy groups, and others: "We want all those groups in there, and (to) expand on (them)."
The question of who would actually own the pool still seems to have a few details to work out – "we're looking at how to deal with that," Schweiger said – Highline Public Schools owns the land, King County Parks owns the building but might turn it over to the school district, he explained. But his group has not yet appeared before the Highline school board, he acknowledged.
In the end, a majority of board members voted in favor of a letter of support; Ray Helms said, "I think supporting an organization that is trying to work to keep the pool open and acknowledges it needs the public support is not too far out of the question … with the understanding that we hope in the final phases there will be full public participation." Pat Price noted that the letter is, in the end, just a letter, and that NHUAC doesn't hold "a lot of clout" in the situation, saying, "In the end, we'll be lucky to see the contract." Christine Waldman observed, "The county wants out of the pool business, and we're running out of time."
The letter of support will be written by Heidi Johnson and sent to various stakeholders including the Parks Department, King County Council and the school district. Schweiger said his organization has another meeting next week to determine more of the next steps in the process.
Our next story: The annexation discussion from Thursday night's meeting. In the meantime, miscellaneous other notes —
COMMITTEES AND EVENTS: NHUAC chair Greg Duff says he wants to hear at least two committee reports every month – "we're not hearing from the committees enough." And he wants two people in charge of each special event, instead of just one – to lighten the load and to ensure backup in case someone gets sick, has an emergency, etc.
NHUAC WEBSITE: Board member Ron Johnson got big kudos for keeping it updated. But he says he can't do it alone: Got an article? An event to add? Send it to him. (The website's at northhighlineuac.org)
COMMUNITY REMINDERS: The annual Pasefika festival is tomorrow, noted Pat Price.
STEVE COX PARK PICNIC SHELTER: Christine Waldman is working with the Parks Department to get it moved.
BUS SHELTERS BY THE WHITE CENTER FOOD BANK/PUBLIC HEALTH: Ron Johnson's been working on this one for a while, at 8th/108th, and says it got bogged down in the bureaucracy – but now the shelters are supposed to be installed this fall.
Tags: Evergreen Pool, North Highline Unincorporated Area Council
You can follow any responses to this entry through the RSS 2.0 feed. Both comments and pings are currently closed.