Mark your calendar! Hicks Lake cleanup date set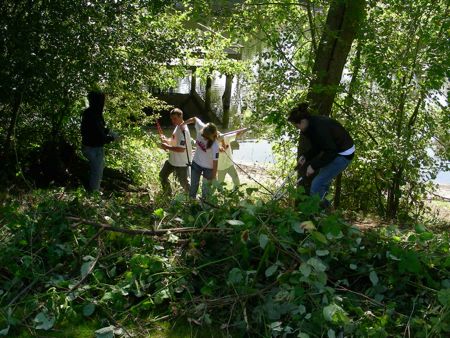 That's one of our photos from the Hicks Lake cleanup last September. A date's set for this year, according to early word from Dick Thurnau of Friends of Hicks Lake:
We have been informed that Seattle Pacific University is proposing to send 40 students this year on Sept. 26/2009, a Saturday, to Lakewood Park to help clean up this area. The blackberry bushes, Scotch broom and invasive weeds plus litter needs to be removed. They call their project City Quest — it encourages freshmen to participate in giving to the communities.

We ask Friends of Hicks Lake and all parties that enjoy the park to give us a hand in this endeavor. Realize this is an early announcement but will keep you posted. Let's mark your calendar to volunteer to help make this facility beautiful.
Tags: Hicks Lake, Lakewood Park
You can follow any responses to this entry through the RSS 2.0 feed. Both comments and pings are currently closed.