A thanks to firefighters — heroes who face daily dangers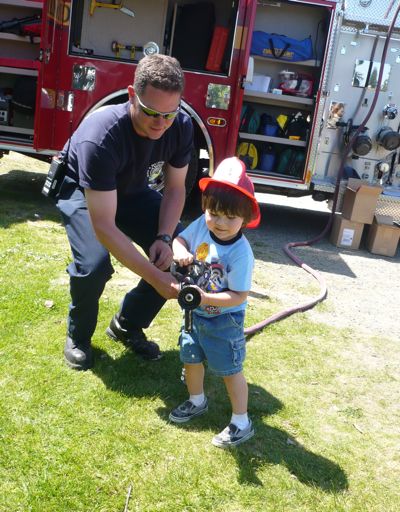 Greg Duff of the North Highline Unincorporated Area Council wanted to share this story, including the photos you see above and below:
On Sunday May 24 the Burien Evangelical Church held a picnic at Chelsea Park on 136th and Ambaum.

The purpose of this picnic was to honor our war heroes who have given so much that we might have freedom.

So often we gloss over the true meaning of Memorial Day thinking it is just about picnics, barbeques and working around the house. I thought it would be fun for the kids to invite the Burien Fire Department so the kids could be thrilled when the truck arrived. Three of Burien's finest arrived on their truck and just as predicted, the kids were thrilled. The firemen went beyond the call of duty. They let the kids climb on the truck, touch the gear and gave out some neat souvenirs. They then played in our softball game and joined us for lunch. It was more than the kids who got a thrill out of having these wonderful fire fighters among us.

As I talk about the heroes of our wars who gave their lives for us, I am proud to be among these heroes who face the dangers of fire on a daily basis to protect. My hat's off to these fine gentlemen.
Thank you to Barb Peters, North Highline Fire Commissioner for making this possible.

Greg Duff
Burien Evangelical Church Volunteer and Member of the NHUAC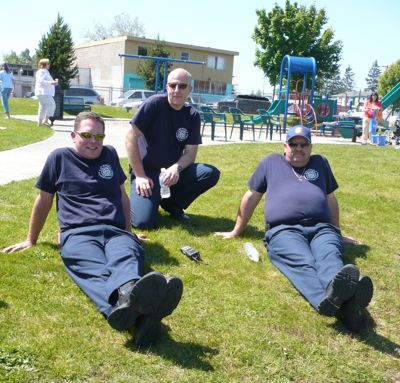 Tags: firefighters, Memorial Day
You can follow any responses to this entry through the RSS 2.0 feed. Both comments and pings are currently closed.