The Great Markets of White Center: Hung Long Sieu Th! (White Center Supermarket)
Hung Long (White Center Supermarket)
9828 15th Avenue SW
Seattle
,
WA
98106
(206) 768-8087
Of all the great Asian markets in White Center, Hung Long Sieu Th! is almost certainly my favorite.  It is distinguished by being directly across from the White Center State Liquor Store.  Some would see this as a convenience and others as a liability.  That aside, this is almost certainly the most well-stocked Vietnamese market.  This is a market in the truest sense of the word: stocking within its tightly knit quarters, all manner of fish and meat as well as a very nice selection of fruits and vegetables, some familiar, some not.  The aisles are packed with sauces, spices and all the accoutrements for fine Asian (or in my case, Mexican) meal.  Indeed, many of the patrons shopping at Hung Long are Latin American, although the overwhelming majority are Asian, attesting to the market's authenticity.  Most times, I am the only non-Asian at the check-out line, as Vietnamese is thrown around as the lingua franca.
My advice for any gringos wishing to venture to Hung Long is to explore and if confused, just ask, the staff are very friendly and more than willing to assist.  Did I mention that the prices are incredibly modest.  You could pack a bag of fruit for under $10.00.  And the fruit would certainly be much nicer than the industrial brand you find at Safeway and other corporate stores.
The seafood is invariably fresh.  No need to trek to Pike Place Market to pick up some fresh crab or halibut.  And you can get some nice black bean sauce to dress the dinner meal.
If you feel like noshing while shopping, Hung Long has a small Hong Kong style deli where you can pick up ribs, roast duck, hum bows or other tasty stews and barbeques.
My favorite quality of Hung Long is its authenticity.  When I step into Hung Long, I am immediately transported to the wonderful markets of Chinatown in New York City or Hong Kong.  This is the real deal, venture forth gastronomes and lovers of food.   An awesome market, Hung Long.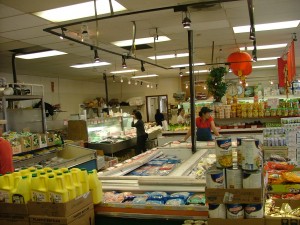 Tags: Asian markets, White Center Markets
You can follow any responses to this entry through the RSS 2.0 feed. Both comments and pings are currently closed.