Thursday Food: Rosticeria y Cocina El Paisano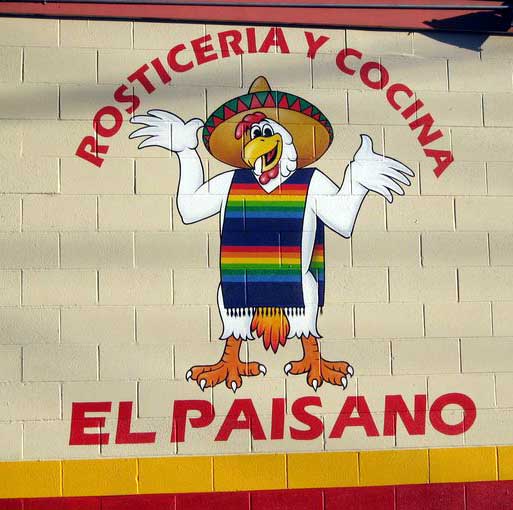 LOCATION:  El Paisano is located at 9629 -15th Ave. SW, Seattle 98106  They are just off the intersection of 15th Ave. SW and Roxbury (across the street from Bartell Drugs).
Phone:  (206) 767-5526
They accept credit/debit cards.
I really have not been writing enough for this blog. I can blame it on a lot of things; life, my new business, lack of sleep, the snow, etc, etc. Really it is just that I am a little lazy. I have to eat though. Actually I love to eat, and most of the time that I do it is in walking distance of my shop, which is most of White Center. So, I decided to start blogging about my lunches on Thursdays. This is my afternoon off. I go shopping, play with the dogs, and get ready for the weekend rush. Not really a day off, but a bit more relaxed then the other days.
First up is Rosticeria y Cocina El Paisano. I go here a lot. It is not the closest Mexican place. Not even the cheapest. It is one of the best though, and reminds me of home.  Consistently good. I know when they set a plate of food in front of me, no matter what I have ordered, the food is going to be good. That is almost the definition of comfort food.
The area I grew up in LA was predominantly Mexican, and poor. MY parents, and I swear this is true, would open up a paper when it was time for a new apartment, and just pick the cheapest place. We lived in Compton, Silver lake, Echo Park (before it was trendy), Santa Ana, even when we moved to Huntington Beach it was in the Hispanic area that was known as Slater Slums. In all those neighborhoods I became familiar with Rosticerias, even if it was an EL Pollo Loco. See, my parents are from the midwest, and if is anything they know well, it is their way around a yard bird and pork. We ate at all of the local chicken joints. Cesars on Atlantic and 65, Pablo's on Alameda, Pollo Macho on  Wilshire, even Rosco's ( which is not Mexican, but makes a mean fried chicken and waffle platter). When I first moved to Seattle, one of the things I missed most was Mexican food. I craved El Pollo Loco,  the bottom of the barrel in LA. Mama's in Belltown, and Bimbo's on the hill is crap food. Not just not authentic, just crap food. I was amazed when I found White Center. So much good food, in one little area, and the rest of Seattle had no idea it even existed. Rosticeria y Cocina El Paisano is the best in chicken. It is owned by the butcher shop two doors down. Sure, the carnitas is better at Del Rio. I can get an equal burrito at the bus for less. As far as chicken goes, Paisano is king.
Marinated in an adobe chili mix, and then flame roasted. Crsipy skin, and a juicy bird. The sides are simple, and plentiful. Rice, beans and a simple salad. Shining right next to that crispy bird is the house made salsas. Most Mexican places in Seattle seem to have a can opener as their main tool is salsa prep. Not these guys. I have become leery of Salsa Verde since moving to Seattle, but Paisano's have nailed it. Flamed roasted tomatillos and just the right amount of chili heat from the peppers to compliment the food. They are now serving Breakfast as well as lunch and dinner, so the next time you venture out to eat, stop by this place.
Tags: Rosticeria y Cocina El Paisano, White Center restaurants
You can follow any responses to this entry through the RSS 2.0 feed. Both comments and pings are currently closed.