Historic building going up for sale: Corner Roxbury and 16th Ave SW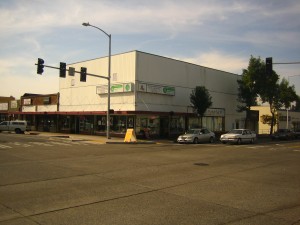 Homer Angel's building is on the sale block. The historic building, whose address is 9601 16th Avenue SW, sits at the corner of Roxbury Ave. SW and 16th Ave. SW. The building was owned for eons by Homer Angel, who was a great person but did little to invest in the building's infrastructure. The building has an interesting history, having served is hotel, bordello, theatre and pharmacy. Current occupants include a Halal market, pharmacy, tax preparation business and a Lucky Nails salon. The corner space has an outstanding view of the heart of White Center. Homer passed away this summer and a couple of private sales fell through. The building is being shopped as an estate sale with an asking price of $1,700,000. The White Center Community Development Association previously attempted to buy the property but the asking price was above their means. This is actually a very lovely building in desperate need of a loving owner who appreciates its charms and is willing to invest in sprucing it up to its great potential.
You can follow any responses to this entry through the RSS 2.0 feed. Both comments and pings are currently closed.