In Search of the Great Burrito: The Best Vietnamese Sandwich in WC
Ok, so I promised sometime back to do a rundown of all the great places where you can get a Vietnamese Sandwich, which, next to Ramen, is the poor student's sustenance.  There are as many Vietnamese Sandwich shops, as there are Pho shops and Asian markets, in White Center – which is to say alot.  So, rather than run down the list, I will share my personal favorite.  For my money, the tastiest Vietnamese Sandwich is, without hesitation, served at Banh 88.  The meat is always excellent, the dressings are fresh and the bread is always toasty fresh.  Load up some Vietnamese garlic hot sauce and you have a piece of heaven for a mere $2.75.  My personal favorite is the barbeque pork sandwich but all the sandwiches, including chicken, beef and vegetarian fare are excellent.  Nikki, the amiable proprietor, is an excellent cook and demands nothing less of her staff.  I have never been disappointed with any meal from Banh 88.  
I must add that besides the Vietnamese Sandwiches, Banh 88 does a full array of great Vietnamese salads, curries and noodle dishes.  This is the place to go with a crowd of people and try everything on the menu.  The curry dishes are likely the best in Seattle.  You can find Banh 88 at 9418 Delridge Way SW (98106), phone 206.768.9767, it is located just south of where Delridge and 17th Ave. SW diverge.  Hours are 11 am to 8:00 p.m.
That said, I invite cognerati to comment on their favorite White Center Sandwich Shop.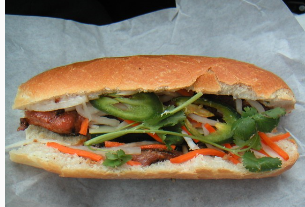 Tags: entertainment, Food
You can follow any responses to this entry through the RSS 2.0 feed. Both comments and pings are currently closed.