Burien bucks help White Center teachers find a home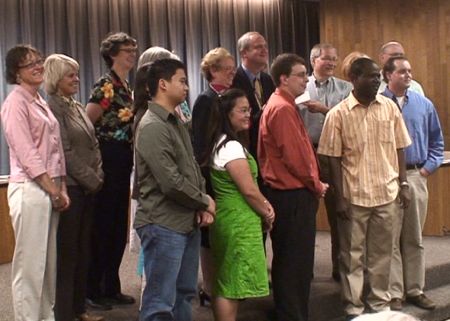 White Center Now was invited to check out the start of the Burien City Council meeting tonight, to be on hand for a special presentation – on behalf of a program that may be setting a national precedent. Twenty Highline Public Schools teachers are getting financial help for rental housing in Burien, but they don't have to teach in Burien – and in fact, five of the first 12 chosen for the program are teaching in the White Center/North Highline area, according to Jenn Ramirez Robson from the office of Burien City Manager Mike Martin; Ramirez Robson explains, "To our knowledge we have not been able to find a similar program anywhere in the United States. Many states offer mortgage assistance but I have yet to find anything that relates to grants or subsidies toward rental housing.". Several of those teachers are in the front row of the group shot we caught candidly above; speakers included State House Speaker Frank Chopp (the state played a role in this too) and Highline Public Schools Superintendent John Welch, who ceremonially accepted the quarter-million dollar grant from Burien Mayor Joan McGilton tonight. Welch explained how the grant is helping with teacher recruiting in the areas where the district needs help the most (he introduces the teachers during this section of his speech, too):
34th District State Rep. Eileen Cody was there for the occasion too, along with 33rd District Rep. Dave Upthegrove, mentioned when Chopp alluded to the money's origins in the long and difficult Lora Lake Apartments saga:
Here are a few more details about the program, from a City of Burien document:
City of Burien
Teacher Housing Incentive Grant Program
June 2008

Introduction

The City of Burien is pleased to announce an innovative pilot grant program geared towards attracting and keeping quality teachers in high-demand academic areas. These teachers will also live in our community as they serve in some of our community's most challenged schools. This $250,000 pilot program is the result of a collaborative partnership including the City of Burien, the Housing Trust Fund, the Washington State Legislature, King County, the Highline School District and the Highline Education Association.

Purpose

The purpose of the Teacher Housing Incentive Grant program is to provide a rental housing grant of up to $6,000 to 40 eligible teachers in the Highline School District. Each teacher will receive the incentive grant over a two-year period: twenty (20) teachers will be selected in the first year of the program, with another twenty (20) teachers added in the second year. The overarching goal of the three-year pilot program is to reduce turnover rates among new teachers in hard-to-fill academic areas in the most challenged Highline schools. It is also worth noting that there will be no administrative costs charged to this program.

General Criteria

We will be looking for candidates who:

* Live or will live in the City of Burien;
* Will work as teachers in the Highline School District for a minimum two-year period;
* Earn below 80 percent of the King County median income, and
* Have the required certification to teach in hard-to-fill assignments such as Math, Science or Special Education.

The City of Burien will ensure that the rental units chosen by recipients are safe.

Benefits to Burien and the Highline School District

Evidence shows that turnover is highest among first-year teachers in the Highline School District. We believe that this program will provide an additional incentive for teachers to remain in challenging schools. The program's success will be measured by a decrease in new teacher turnover and an increase in retention of teachers in hard-to-fill assignments. Encouraging these teachers to live in the City of Burien will also enrich our vibrant and growing community with more young professionals who we hope will put down roots in Burien.
Tags: burien, Highline Public Schools, teachers
You can follow any responses to this entry through the RSS 2.0 feed. Both comments and pings are currently closed.