Seattle councilmember says a West Seattle jail site is one of the 2 "most likely"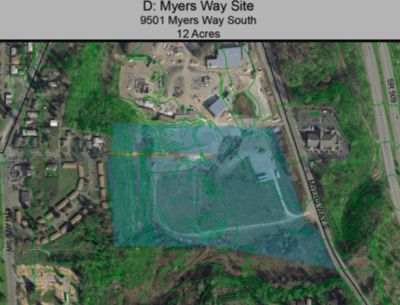 UPDATED FROM ORIGINAL FRIDAY MORNING VERSION: MagnoliaVoice.com covered a Magnolia meeting Thursday night regarding the proposed jail site in Interbay. That site's original report said that Burgess thought the Interbay and "South Seattle" sites were the most likely ones of the "final four" — since there is no "South Seattle" site, but rather two West Seattle sites (Highland Park Way SW/West Marginal Way and Myers Way South), we contacted the Magnolia Voice editor (a veteran journalist who I worked with for years in Seattle citywide media), who reported he'd said Myers Way (which she confirmed when we checked with her again just now). However, Councilmember Burgess left a comment on this post saying he had mentioned the "First Avenue South Bridge" site, and pointing to a post on his own blog from early August in which he said Interbay and "First Avenue South Bridge" were the sites most likely to meet the criteria. No site is identified as "First Avenue South Bridge" on the city list; the Highland Park Way SW/West Marginal Way site is the closest to that bridge. We have a message out to Councilmember Burgess to clarify that's the one he describes as "First Avenue South Bridge." and will update this again if/when we hear back. *Note that we have not amended the comment thread below, so it refers to the original version of this post, up through my response to Councilmember Burgess's comment; anything after that would be responding to this updated post.* UPDATED SUNDAY AFTERNOON: Councilmember Burgess' reply to our request for clarification of which site he meant:
Correct, the West Marginal site which is about 1.5 blocks off the southwest corner of the bridge. The site is partially owned by the city and partially owned by WSDOT which used it as a staging location when the bridge was repaired a few years back. I refer to it as the First Avenue South Bridge site because that helps people understand the geographic location better than the intersection.
Tags: Jail Sites, Seattle City Council
You can follow any responses to this entry through the RSS 2.0 feed. Both comments and pings are currently closed.