White Center in line for more bus service during Viaduct work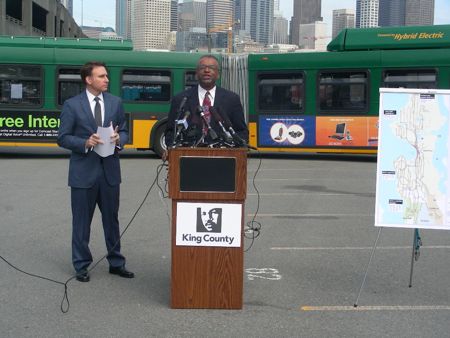 That's King County Executive Ron Sims and White Center/West Seattle-area County Councilmember Dow Constantine at a just-concluded media briefing in Sodo detailing a state-funded plan to add Metro bus service when major Alaskan Way Viaduct work starts next spring. Full details later; the White Center/Burien-area routes mentioned as "candidates for service enhancement" include 21, 22, 23, 60, 113, 120, 121, 122, 123, 125, 128, 131, 132, 134, 174. (West Seattle routes are listed in this report on partner site WSB.) ADDED 1:36 PM: Here's the official news release from the county website. We're working on getting electronic copies of the collateral (including a countywide map of potentially affected routes) that was handed out at the media event. ADDED 5:30 PM: Full report now posted on WSB, including video clips.
Tags: alaskan way viaduct, dow constantine, King County, Metro, ron sims
You can follow any responses to this entry through the RSS 2.0 feed. Both comments and pings are currently closed.