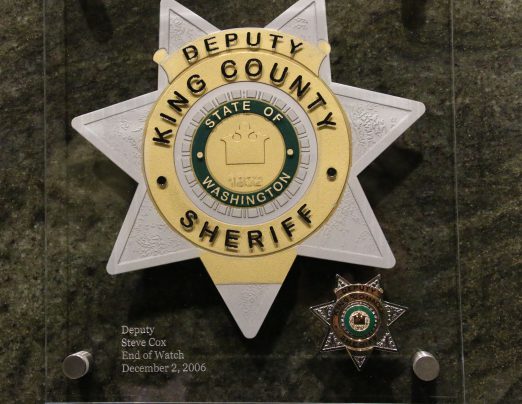 (WCN photos/video)
That's the plaque for King County Sheriff's Deputy Steve Cox on the new memorial KCSO just dedicated for the 16 law enforcers it has lost in the line of duty. Deputy Cox, the White Center community leader who was killed 10 years ago today, is the most recent, but, Sheriff John Urquhart warned somberly, won't be the last.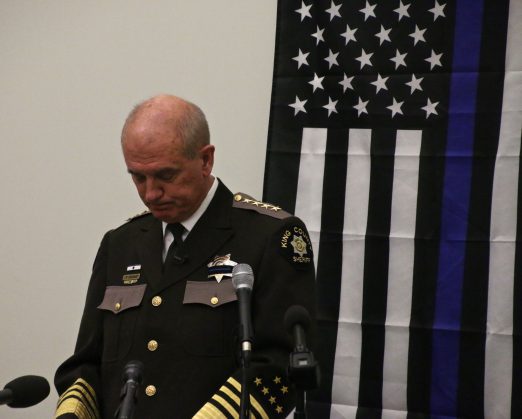 The short ceremony in the jury room at the King County Courthouse downtown this morning also acknowledged the sad coincidence that this event, long in the works, comes as the state mourns a Tacoma police officer killed in the line of duty this week. After the ceremony, everyone moved to the courthouse lobby outside the Sheriff's Office, with fallen officers' family members in the front row for the unveiling:
Memorial unveiled in courthouse lobby. In front are relatives of fallen deputies. 'It's beautiful,' one said. pic.twitter.com/GCXq6QgJ0d

— West Seattle Blog (@westseattleblog) December 2, 2016
Family members had been given roses as they entered the ceremony, and many were placed below the memorial before they left: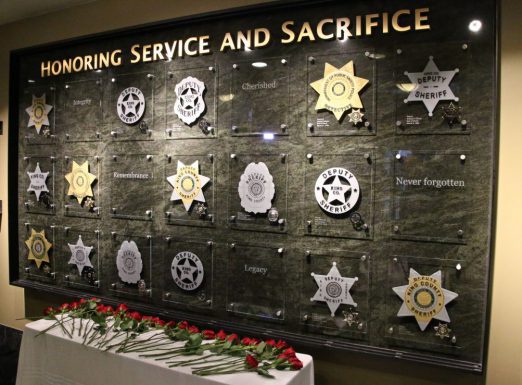 We also recorded video of the ceremony at which Sheriff Urquhart and King County Councilmember Reagan Dunn spoke.
ADDED FRIDAY NIGHT: Here's that video:
And here's the official KCSO news release about today's event: Read the rest of this entry »